Exclusive
EXCLUSIVE INTERVIEW: DC Housewife Catherine Ommanney Made Racial Slurs, Nanny Claims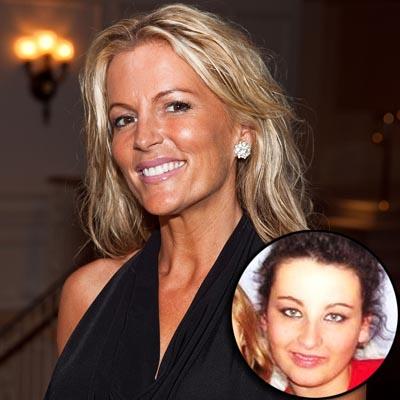 Real Housewives of D.C. star Catherine Ommanney was an absent mother to her children who made racist remarks and spent her time "partying hard," her former nanny tells RadarOnline.com in a bombshell new interview.
"I worked seven days a week because Cathy slept in the mornings and went out partying in the nights," former nanny Monica Herrero exclusively told us sof her stint working for the single mother in 2007 while they lived in London, England.
Article continues below advertisement
"She had a very disorganized life, like a teenager. I felt like a mum and that Cathy was my daughter."
Herrero said she took the job as a full-time nanny for Ommanney and her daughters Ruby and Jade after answering an online post.
"She was desperate and wanted me to travel urgently," Herrero told us.
"She paid me only 50 pounds a week and sometimes forgot to pay me at all. She treated me like rubbish."
As RadarOnline.com first revealed, the reality television star's former nanny lifted the lid on her passionate liaison with Prince Harry -- 13 years her junior.
The Royal ordered chauffeur-driven cars to collect her for secret trysts on two occasions, Herrero said.
EXCLUSIVE INTERVIEW: Prince Harry's Secret Trysts With DC Housewife, Says Nanny
Speaking to RadarOnline, she said: "Although she was my boss, when she was really happy she would share things with me, like what happened with Prince Harry. She would show me messages that he sent her, and she said that he wanted to take her hand and travel around the world.
Article continues below advertisement
"While I was living with Catherine a car with a chauffeur came for her twice," explains the former nanny, "and her daughters would tell me, 'This is the car that Prince Harry sends for mummy.'"
Although Ommanney touts herself as an interior designer, Herrero said she never saw her working; only traveling to places like Monaco, Barbados and New York and partying all night, often neglecting her daughters.
"Sometimes the girls wouldn't see their mother for a whole week and they
live in the same house!" Herrero said.
"She loved to be very, very skinny. I never saw her eating; only drinking juices and glasses of wine."
Consistent with accusations of racism thrown at Ommanney during her stint on The Real Housewives of D.C., Herrero said the 39-year-old mother of two often made racial slurs towards those of other races.
Article continues below advertisement
She was not directly accused of racism in the episode, but Turner's black friend Erika Hughes said her comments were "rude, abrasive and neck rolling".
After splitting from her husband, Ommanney has returned to London and told The Evening Standard: "I have been portrayed as a racist. The fact that I was putting Tyra Banks down and mildly disappointed with Obama, it has nothing to do with colour. I despise racism and sexism."
Article continues below advertisement
The ex-nanny said she felt sorry for the reality star's children and she tried to be as attentive and loving as she could, to make up for what they weren't getting from their mother.
"She was very cold with the girls and with me too... she screamed a lot," Herrero said.
The 23-year-old former nanny said things turned sour when she expressed her frustration at working for Ommanney through a handwritten letter she never intended anyone to see.
"Cathy found a letter in my room I'd written and she called me furious and told me to come home right away," Herrero said.
"When I got home she opened the front door, screamed at me and threw my clothes and all my things on the street.
"I was 20 years old, didn't know anybody and she left me on the street without anything only for writing a letter that expressed my feelings.
"I was crying on the street and the only thing she did was scream at me to go back to my country and slammed the door."