Exclusive
EXCLUSIVE INTERVIEW: 16 And Pregnant Ashley's Adoption Choice: 'I Suffer Every Day For It'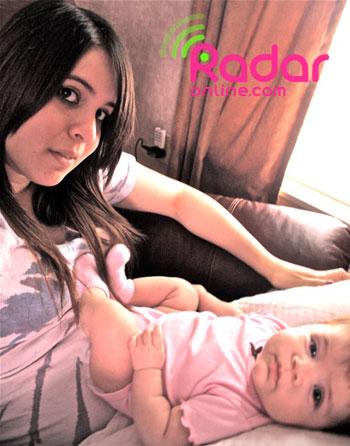 Ashley Salazar from MTV's 16 and Pregnant made the heart wrenching decision to give up her baby Callie for adoption to her aunt and uncle.
And now, one year later, she has opened up exclusively to RadarOnline.com about the difficulties she has faced since her painful choice and her advice to new mothers experiencing the same challenges.
Radar: You made a mature but very heart wrenching decision to put your baby up for adoption, how confident are you that made the right choice?
Article continues below advertisement
Ashley: I honestly don't think that I will ever be 100 percent confident in my decision. I suffer every day for it. Some days, I am right back to square one, feeling like I did in the hospital; confused, depressed, and uncertain. The only thing that I am confident in is that she is taken care of every day and has everything she not only needs, but could ever want, as well.
Radar: You kept a very personal detailed account of your pregnancy with both photos and a blog. When you gave birth and finally opted for adoption, did you miss the process you became so involved in?
Ashley: I definitely did, and I definitely do miss the documentation. I loved being able to document something that meant so much to me, especially since I am confident when I say that this pregnancy was the most meaningful and positive life changing experience that I will ever have in my life.
Radar: How do you think your life would be different today had you not gone through with the adoption?
Ashley: I think I might have been a tad bit happier, but the stress would have canceled some of that happiness out. When I find out about all the expenses that my aunt and uncle have to take on, I feel relief. I do know, though, that Callie and I would have been just fine and happy together, but at what cost? I would never be around.
Article continues below advertisement
Radar: She just had her first birthday, how did she spend her day?
Ashley: My aunt and uncle had Callie's actual party two days after with family. I could have flown down, but they were last minute circumstances. I saw a video of the party on YouTube and my mom Skype'd with her. They are saving a slice of cake and my present so we can open it and eat some cake together.
Radar: You recently got to see Callie, what was that like for you?
Ashley: Well, I see her every few months. This last time, when she was almost a year old, she just changed so much - in her appearance especially. I couldn't handle the initial encounter, and I literally just instantly left and broke down outside in the street. I just pushed all negative feelings aside the following day and enjoyed the time I am so blessed to be able to spend with her.
Radar: What is she doing now?
Article continues below advertisement
Ashley: She's so smart. She's a good problem solver. She's walking - trying to - and saying small words. She's a good eater, loves to laugh, and have fun.
Radar: Have you made plans as to what you will tell her about the adoption when she is old enough?
Ashley: I think we will just cross that when we get there. I'm not sure what the specific words will be. My aunt and uncle have repeatedly told me that they will in fact tell her the truth about the adoption and they are constantly showing her pictures and talking to her. They also want to come up with a special name that she will call me, not "Ashley."
Radar: What are your future plans for school?
Ashley: I left New York City. I'm just going to continue my schooling in Texas. I'm not going to stop school. I'm going to do what I need to do and make Callie proud. That's it.
Radar: I read you will be moving - will you get to see Callie more often?
Ashley: Yes, I'm so relieved. I will definitely see her. Circumstances have suddenly brightened when the distance between us is a car ride as opposed to a plane flight. I can take off any time.
Article continues below advertisement
Radar: What would be your advice to young teens who are considering adoption?
Ashley: Wow, I could write a speech... Think long and hard about what you really want. Weigh out your options - pros and cons. Think long and hard about what you want for your child, first of all. Try not to be so biased when your feelings get in the way, and try not to listen so much to other peoples' inputs. It's not worth it. It's too confusing. You and of course, your child, are what matter the most. Lastly, I'm going to be honest, because I believe that teens need to know this before hand: adoption hurts like hell. It could possibly destroy you for a while. You won't be able to sleep. You won't be able to eat. You won't be able to look at other babies, and there will be days you might feel like you can't go on living. If you aren't going to see your child regularly, I wouldn't recommend bonding with it for 48 hours in the hospital like I did. Depressing, I know, but it gets better. There's always a light at the end of the tunnel. Most of all, do what you think is best for your child. Your child comes before you always. If you are religious, pray and pray.
EXCLUSIVE INTERVIEW: 16 And Pregnant's Markai - 'My Story Is Intense!'
Radar: How do you feel this experience has most affected your life?
Alexis: Again, I could write a novel. I think I have changed for the better. I still need a lot of therapy, and I want to fix myself. I don't feel like I even had a baby. Things are still so blurry to me. I am, though, forever grateful, and I realized how blessed I really am (I could cry) to have the family that I do. I couldn't imagine having had to give Callie to strangers. I really don't know what I want to do in life, but everything is for Callie. The only thing do I know for sure is that I am more ambitious. Callie made me want to make something of myself the moment that I found out I was pregnant. My beautiful girl is my rock, my light, and my inspiration for everything I do. I cease to exist without her.