EXCLUSIVE DETAILS: Wesley Snipes To Surrender To Federal Prison Thursday -- His Life Behind Bars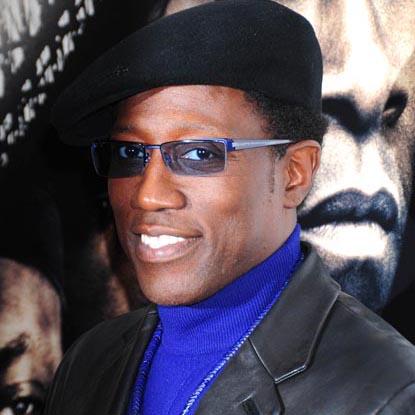 UPDATE: Wesley Snipes has just reported to prison.
Wesley Snipes is scheduled to surrender himself by noon Thursday at a Pennsylvania prison to begin his three-year sentence for tax evasion, and RadarOnline.com has exclusive details of what the actor can expect once he's behind bars.
The Blade star, 48, has been ordered by the United States Marshal to serve his time at the McKean Federal Correctional Institution -- a medium security facility housing male inmates -- located in northwest Pennsylvania, about 90 miles south of Buffalo, New York.
Article continues below advertisement
He will be Bureau of Prisons inmate No. 43355-018.
Wesley Snipes Doesn't Believe He Owes Taxes
According to the inmate information handbook for the facility, Snipes will be assigned to the admission and orientation program within 30 days of his arrival and, upon completion, he will be given a "work assignment" -- receiving payment based on his performance.
Snipes' day will begin with a 6:35 am wake-up call, followed by the unit officer announcing breakfast. The actor will then have ten minutes to make his bed and leave his unit to report for breakfast, followed by an 8:00 am call time for his work assignment.
And the actor can forget about his fancy designer duds -- no civilian clothing is permitted at McKean; all clothing is "prison issued" and stamped with the inmate's registration number.
Consisting of khaki pants, khaki shirt, belt, safety-toed work shoes and an ID card, the inmates are required to wear the uniform during most hours of the day.
The good news is Snipes can wear his wedding band in prison, which will probably come in handy.
Article continues below advertisement
Inmates at the facility are allowed to shower only three times a week; during that time they will receive a fresh set of prison issued clothing. But it's lights out at 10:00 pm daily.
Visiting hours are Monday from 1:30 pm until 8:00 pm, as well as 8:00 am until 3:00 pm on Saturday, Sunday and federal holidays. Visitors are limited to three adults and three children per visit; kissing, embracing and handshaking are only allowed upon arrival and departure.
EXCLUSIVE COURT DOCUMENTS: Read The US Response In Opposition To Snipes' Motion For Bail Pending Appeal
Snipes and his lawyers have spent over two years fighting his 2008 conviction, which found him guilty of failing to file returns or pay tax on earnings of $38 million.
Despite his first appeal, the actor lost his battle for a retrial and last month was ordered to turn himself over to authorities to serve time. A second appeal has since been filed.
Article continues below advertisement
Snipes' attorney Daniel Meachum attempted to keep the actor out of jail by asking a judge in Florida for a bail extension to allow him to lodge another appeal against his conviction.
But federal authorities insisted Snipes turn himself over to officials and they've warned him if he fails to report to prison at the designated place and time, he may face additional criminal charges.
Snipes also tried to delay his sentence, requesting that he surrender following the holidays but the judge denied that request as well.