Exclusive
EXCLUSIVE: Big Trouble For Lindsay's Accuser: Federal Investigation Plus Lawsuit Looming In New Year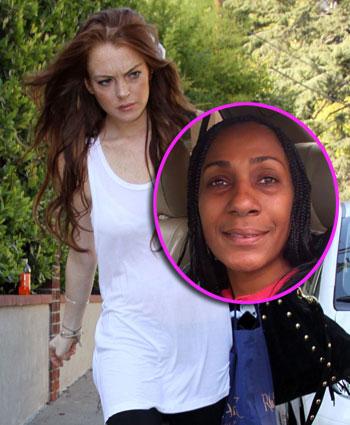 The healthcare worker who clashed with Lindsay Lohan and then sold her out is facing possible double trouble in the New Year: a federal criminal investigation and a civil lawsuit, RadarOnline.com is reporting exclusively.
Dawn Holland, who was fired from the Betty Ford Center after she sold information about Lohan to TMZ for at least $10,000, now may have to deal with charges that she violated HIPAA – a federal crime.
Article continues below advertisement
In addition, she can be sued by Lohan, who has not commented on the situation.
" I agree that Holland is behind the 8-ball," Santa Monica Criminal defense attorney Steve Cron told RadarOnline.com. "Everyone knows that LL (Lindsay Lohan) was a patient at the Betty Ford Center, but it's an entirely different story to give details about her treatment and possible violations of program rules."
Holland claims that Lohan grabbed and injured her after the actress missed curfew at the center's sober house. She also said that Lohan's mother Dina told her she didn't have to take a breathalyzer test. Holland filed a criminal complaint with police, who are investigating Lindsay for the alleged attack.
Holland has however quickly changed course.
She admitted in an exclusive and unpaid interview with RadarOnline.com that TMZ made a deal to pay her while she was still a healthcare worker and she gave them information and a document about the incident – a document that the Betty Ford Center says is confidential.
Holland's lawyer Keith Davidson now says the ex rehab worker will drop her criminal complaint against Lohan and not cooperate with police. On Thursday, Davidson said Holland will not sue Lohan, but left open the possibility she will sue the Betty Ford Center.
Article continues below advertisement
Cron, the expert defense lawyer, says he believes Holland was ok calling police about the Lohan alleged incident – but committed a crime by then giving the information to TMZ.
"I didn't have a problem with her (Holland) notifying the police to report a crime (i.e. battery), but to go to TV with TMZ, and to get paid for it, is a blatant violation of HIPPA, for which she could be prosecuted criminally and sued civilly," Cron told RadarOnline.com.
"I see no likelihood of BFC getting prosecuted criminally because they didn't do anything to violate HIPAA, and in fact, immediately fired the employee who had disclosed information. BFC could easily be sued civilly because in a civil context they're responsible for the actions of their employees."
RadarOnline.com was first to report that a lawyer for the Betty Ford Center called the attorney general's office to report the Holland situation.
Article continues below advertisement
The rehab center said Holland violated patient confidentiality and made a confidential document public in explaining why she was fired. Both of those allegations can easily be the basis for a federal investigation against Holland for violating HIPAA – a violation that could carry jail time.
The feds are not expected to comment on the situation until the new year begins. It is also possible that TMZ can be criminally investigated and prosecuted for its role in the scandal, by paying the health care worker for confidential information. The website has not returned RadarOnline.com's calls for comment.