Exclusive
EXCLUSIVE: Angelina Pivarnick Offered $50K To Star In Jersey Shore Porn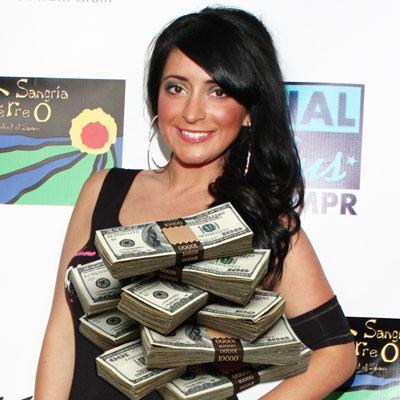 Angelina Pivarnick, the axed former co-star of MTV's Jersey Shore, has been offered a new on-screen role -- porn!
Angelina, 23, was recently made a $50,000 proposition -- in addition to a cut of the tape's profits -- to star in a steamy Jersey Shore themed sex tape, RadarOnline.com has learned.
A source tells RadarOnline.com that the original Jersey Shore cast member is negotiating with porn producer Vivid to shoot the sexually charged XXX tape.
Article continues below advertisement
A co-star has not yet been confirmed.
However, Snooki's ex Jeff Miranda is said to be interested in the role and has spoken to Vivid, according to one insider.
In a contract presented to Angelina's camp -- and seen by RadarOnline.com -- Vivid offered the Staten Island native a $50,000 advance against royalty profits she would share in.
"Vivid shall pay Artist twenty five percent (25%) of Adjusted Gross Revenue (the "Royalty")," the contract reads.
In return, Angelina would have to deliver Vivid three hours of footage, including "(i) a minimum of two (2) hours of footage depicting Artist engaged in sexual positions... and (ii) one (1) hour of personalized sexy wrap-around footage depicting Artist."
When asked if she was prepared to do the porn, Angelina told RadarOnline.com: "No, I'm not. I'm definitely not."
The former television star's promiscuity was a key storyline on the show, before she was dumped at the end of the last series.
Article continues below advertisement