Exclusive
DOUBLE TAKE! Pauly D Comes Face-To-Face With Look-alike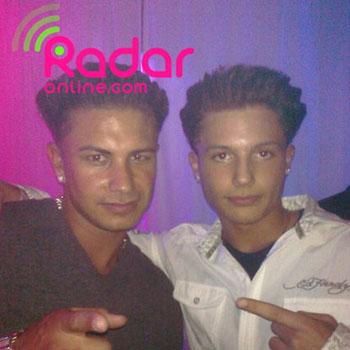 Move over Pauly D, there's a new hair raising star in town -- and he looks just like you!
RadarOnline.com has the exclusive pictures which give new meaning to the term 'twin peaks' proving Pauly D and his famous hair, well, are not one of a kind.
Pauly D. Spins at Terminal 5 Night Club in New York City
But the DJ -- real name Paul Delvecchio -- won't have to worry about his doppleganger stealing the show, because 16-year-old Joey Mancini is just a high school student from Connecticut.
Article continues below advertisement
"I was watching the show the first day it came out and I needed a new haircut, and then I saw Pauly D's," he told RadarOnline.com.
"I had always had a blow out but it was more Gotti style.
"When I went into school everyone started calling me Pauly and now where ever I go people call me little Pauly.
"I met him at a club here in Connecticut when he was doing an appearance and as soon as he saw me he said; 'You look just like me' and 'you're my twin.'
"It was really funny because he even joked with me and said; 'You're hair looks better than mine!'
VIDEO: Pauly D Causes A Situation At University Of Rhode Island; Cops Called
"He's a really nice guy, when everyone was getting kicked out of the vip section he called me back and asked if I wanted a photo together and we took a couple."
Mancini has made another Jersey Shore pal too after contacting Emilio Masella to invite him to his Sweet 16 birthday party.
And in a generous gesture, he accepted the invite and made an appearance on his big day.
"When I saw his photo on Facebook I couldn't believe how much he looked like Pauly D," Emilio said.
"He seemed like a sweet kid and so when he asked me to come to his birthday party I showed up and of course brought him some hair gel."
RELATED STORIES:
EXCLUSIVE: Jersey Shore's Pauly D Asks A Whopping $40,000 an Appearance!