Exclusive
EXCLUSIVE: Jersey Shore's Pauly D Asks A Whopping $40,000 an Appearance!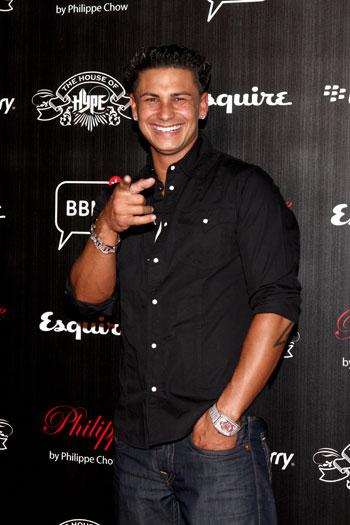 Jersey Shore's Pauly D was a DJ long before his days as a reality star but with his newfound celeb status, he made the switch to talent agency powerhouse William Morris Endeavor and has upped his event price by thousands. RadarOnline.com exclusively learned that the star is now asking a whopping 40,000 an appearance.
VIDEO: Pauly D Causes A Situation At University Of Rhode Island; Cops Called
"He was making about $30,000 an appearance before but the new asking price has been raised to $40,000," revealed a source.
Article continues below advertisement
If the reaction from college students at the University of Rhode Island is any sign of his climbing fame and new cash flow, he might just get his asking price.
"People started knocking at the door of the dorm room he was visiting. He looked outside and saw thousands of people in the parking area surrounding his car and he realized he couldn't get out," a friend of the star told Radaronline.com exclusively.
A mob scene broke out at the university on Thursday. There were more than 1,000 students that flocked to and surrounded the building the MTV star was in within a matter of minutes.
"It wasn't like anything his body guard Jerry Gialanella (Big Jerry) had ever seen, he turned and hugged him with one arm and just bulldozed everyone. It was insane, the college kids were grabbing him."
Pauly made it off campus with the help of his own security, campus security and the Rhode Island Police department.
"He handled it really well even though it was scary, he laughed it off."
Pauly's friends described the experience, "like the Beatles all over again."
RELATED STORIES: