Christina Aguilera Holds Hands With New Beau At Airport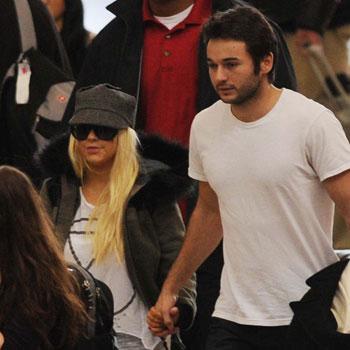 Christina Aguilera and new boyfriend Matthew Rutler were spotted holding hands on Friday as they tried to quietly catch a flight together out of Los Angeles.
Surrounded by an entourage, the two kept close to one another. Aguilera attempted to go under the RadarOnline.com by hiding under a cap, large black sunglasses, and a winter coat.
The two may be going on a long trip: the singer's bags, which arrived half an hour before she did, towered over the airport bag porter!
Article continues below advertisement
Earlier this week, Aguilera opened up about her new romance a mere six weeks after announcing her divorce.
"There's a love there, yes. I'm having fun, I'm dating and it's something I haven't had in a really long time," she told People Magazine when asked about her relationship with Matthew Rutler, a set assistant on her new movie Burlesque.
"Matthew is a special person. We had a really strong friendship on the movie," she added. "He's the kind of person you could spend hours on the phone talking to and all of a sudden it's daylight.