Celine Dion Shows Off Twin Boys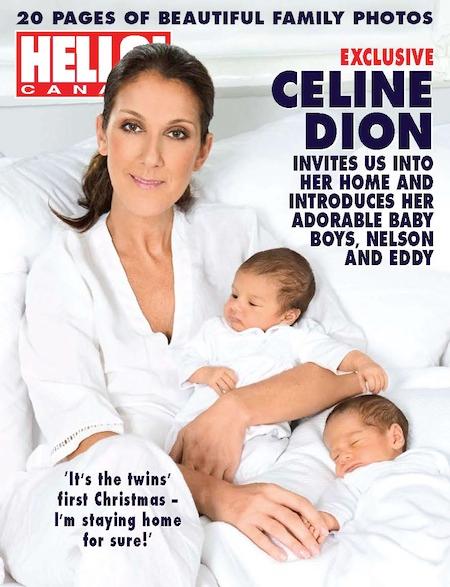 Proud new mom Celine Dion showed off her twin boys Eddy and Nelson for the first time, and RadarOnline.com has a sneak peak at the superstar's beautiful babies.
The Canadian-born songbird -- who had struggled to conceive -- proudly posed with her new sons on the cover of the brand new issue of Canadian OK! Magazine.
The pair were born on Saturday, October 23, to join Celine's husband Rene Angelil and their 9-year-old son Rene Charles.
Article continues below advertisement
Dion, 42, has been very open about her fertility struggles, and she conceived the twins on her sixth in vitro attempt over the course of a year.
"It was a very emotional moment, and even though we didn't speak to each other, we were both thinking about the time it took," Angelil said. "We are very lucky, very priviledged and very fortunate to have these boys."
Rene said the twins' birth has also been an exciting time for their 9-year-old son Rene-Charles.
"He was very, very happy that it was boys," he said.
"I remember a few months ago when mom told him the day we were going to know if it was a boy or a girl or two boys or two girls…his reaction pointing to his mom's belly he said, 'I hope there's not too many girls in there.'"
The name "Eddy" comes from Eddy Marnay, who produced the singer's first five records while Nelson is named after Nelson Mandela, whom Celine met two years ago while kicking off her world tour in South Africa.
MORE ON:
hollywood happenings
Article continues below advertisement
Following their birth the twins big brother, according to Angelil, Rene-Charles told him, "One looks like dad, and the other looks like mom."
Celine Dion Pregnant With Twins
She may be a mom of three now, but don't expect motherhood to slow Dion's career down. The singer will return to the Las Vegas stage.
"We know she's going to start rehearsing Jan. 17," says her husband. "It gives her three months to recoup and she thinks she can do it."