Elizabeth Smart's Kidnapper Found Guilty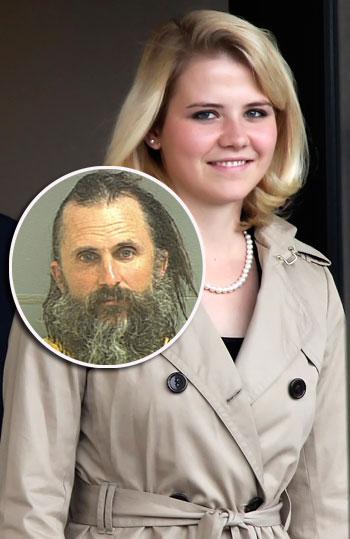 A jury in Salt Lake City, Utah found Elizabeth Smart's kidnapper, Brian David Mitchell, guilty on Friday of interstate kidnapping and unlawful transportation of a minor to engage in sexual activity.
The jury deliberated for five hours before they reached the verdict.
Smart was in the courtroom with her sister, Mary Katherine, and parents Ed and Lois, as she had been every day of the trial since her testimony. The family smiled when the verdict was read.
Article continues below advertisement
SHOCKING PHOTOS: Elizabeth Smart Evidence In Kidnapping Case
While on the stand, the now 23-year-old Smart described the nine month horror she suffered at the hands of Mitchell and his wife Wanda Barzee, who is serving a 15-year sentence for Elizabeth's kidnapping.
Elizabeth was taken at knife point from her home on June 5, 2002 at the age of 14, held captive by Mitchell and raped daily during her ordeal.
She said she made a decision about how she would handle her dire situation.
"No matter what it took, I would live," Smart testified. "I would survive and do everything he told me to do to keep my life and my family's life intact."
Michael Welner, a New York psychiatrist who appeared for the prosecution at a cost of almost $750,000, said that Mitchell is a sadist and has narcissistic and anti-social personality disorders, with "the features of a psychopath."
Article continues below advertisement
Mitchell's attorney, Robert Steele, was hard pressed to say anything positive about his client.
In his closing argument, Steele told jurors, "He is not a good person."
He claimed that his client was mentally ill and suffering from the delusion that he was commanded by God when he abducted then-14-year-old Smart.
The prosecution disagreed, and argued that Mitchell was not insane when he kidnapped Smart. U.S. District Attorney Diana Hagen told jurors that, according to trial testimony, Mitchell disobeyed revelations from God "all the time."