VIDEO: Taylor Momsen Unrecognizable In Adorable Shake 'N Bake Ad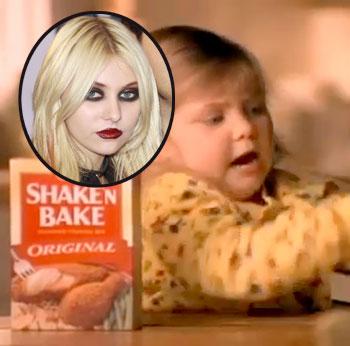 It's hard to imagine Taylor Momsen without her bleached blonde hair, raccoon eyes and revealing outfits but RadarOnline.com has the adorable Shake 'N Bake commercial which shows the Gossip Girl as a cute, fresh faced three-year-old.
Before becoming a rebellious teenager and frontwoman of the rock band 'The Pretty Reckless,' Momsen, 17, was busy making commercials.
In this advert from 1997 she is barely recognizable with her chubby cheeks and pigtails as she demonstrates how to 'shake 'n bake' your way to a delicious dinner.
Article continues below advertisement
Despite appearing happy and bubbly in the ad, Momsen recently blamed parents for robbing her of her childhood by pushing her into the entertainment business.
"Everyone's like, 'Wow, why is she upset and why is she so miserable about things?'" she said in the interview. "My parents signed me up with Ford Modeling Agency at the age of two. No two-year old wants to be working, but I had no choice.
"My whole life I was in and out of school. I didn't have friends. I was working constantly and I didn't have a real life."