VIDEO: Robert Downey Jr. Ducks Mel & Charlie Questions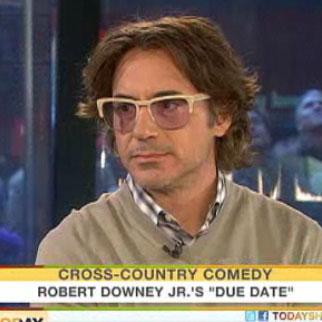 Robert Downey Jr. was an Iron Man - when it came to avoiding controversial questions - as the actor carefully worded responses to questions about two of his Hollywood pals, Mel Gibson and Charlie Sheen, in an appearance on the Today Show Tuesday.
Watch the video on RadarOnline.com
Today Show host Meredith Vieira, recalling Downey's own troubled past, asked the actor if it was fair to say Gibson (who he co-starred in 1990's Air America with) was key in helping him get back into Hollywood's circle of trust.
Article continues below advertisement
"Well it's fair to say anything you like... he and I have a friendship that spans well over two decades," Downey said. "He's a stand up guy -- he's always has been for me -- and certainly when I was not hire-able, he put his ass on the line and said, 'I'll take that chance.'"
Vieira asked Downey if he helped Gibson get a role in The Hangover 2, before cast and crew complaints put the kibosh on the potentially career-saving cameo.
"First of all, he doesn't need my help," Downey said. "He will always have my friendship, and that's just talking about business and Hollywood stuff, which to me is nowhere as important as friendship."
Asked about Sheen, Downey said he'd save his advice for his longtime pal for a face-to-face encounter.
Vieira asked, "What would you say to Charlie?" to which Downey dryly replied, "Whatever I would say to him."