Ke$ha Drops 'Nazi' Looking Dance Outfits Right Before Performance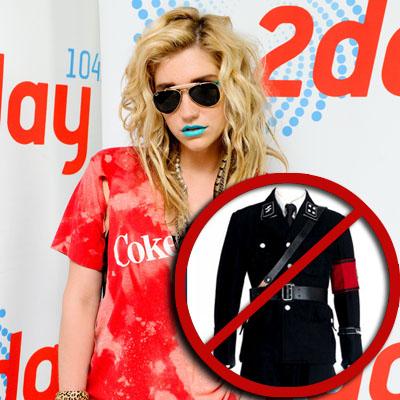 Ke$ha says "nein".
The Tik Tok singer said no-way to a dance troupe wearing military-style outfits with Nazi overtones before she took the stage on the Aussie version of The X Factor this past weekend, RadarOnline.com has learned.
Watch the video of Ke$ha performing in Australia below.
The dancers were ordered to change their costumes right before the popular talent show was broadcast live in Australia on Sunday night.
Article continues below advertisement
"The costumes that had been supplied locally had the dancers wearing red armbands, and Ke$ha was concerned that they looked like Nazi uniforms," a Sony spokeswoman said.
"(She) requested they be removed as this was simply not part of the brief."
Ashley Evans, director of the dance company Squared Division, said the Nazi element was "never" an intention.
"The whole idea behind the performance was that Ke$ha was a dance commander and the dancers were her army," he said.
"The costumes were hired and it was Ke$ha who said they looked a bit Nazi and asked for them to be changed.
"Nothing German or Nazi was ever part of the plan."
Channel 7 officials also acknowledged there were last-minute costume changes.
"It's a 7.30pm show (and) a decision was made to make their wardrobe appropriate for the viewing time," a spokesman said.
Ke$ha was on The X Factor to perform her Number 1 single We R Who We. Her torn outfit did not feature any of the swastika-like emblems.
Article continues below advertisement
Controversy continued to follow Ke$ha when she appeared on Seven's Sunrise show Monday. She again appeared with two dancers in black uniform, but it was her lyrics that attracted the ire of early-morning viewers.
After the performance, hosts David Koch and Melissa Doyle told viewers there had been a flood of emails, predominantly from parents who deemed the performance too "racy".
Koch even made an on-air apology, saying they rarely see a guest performer's act before it goes live.