Tina Fey's Palin Jokes Omitted From Broadcast, PBS Says Politics Not To Blame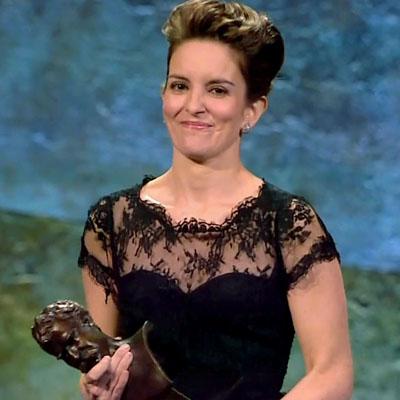 A few hard-hitting Sarah Palin-themed jokes Tina Fey told during her acceptance of the Kennedy Center's Mark Twain Prize for American Humor last week were curiously omitted from the ceremony's broadcast on PBS this past Sunday, RadarOnline.com has learned.
Fey's dead-on impressions of the politician during the summer and fall of 2008 on Saturday Night Live have her closely associated with the Alaskan governor-turned-reality star.
Article continues below advertisement
Fey, accepting the prize last Tuesday, joked that "the success of Sarah Palin and women like her is good for all women - except, of course those who will end up, you know, like, paying for their own rape 'kit 'n' stuff. But for everybody else, it's a win-win. Unless you're a gay woman who wants to marry your partner of 20 years - whatever.
"But for most women, the success of conservative women is good for all of us," she continued. "Unless you believe in evolution. You know - actually, I take it back. The whole thing's a disaster.
"I would be a liar and an idiot if I didn't thank Sarah Palin for helping get me here tonight. My partial resemblance and her crazy voice are the two luckiest things that ever happened to me.
"All kidding aside, I'm so proud to represent American humor, I am proud to be an American, and I am proud to make my home in the 'not real' America," she said. "And I am most proud that during trying times, like an orange terror alert, a bad economy or a contentious election that we as a nation retain our sense of humor."
Article continues below advertisement