Taylor Swift and Kanye West Porn Parody In The Works!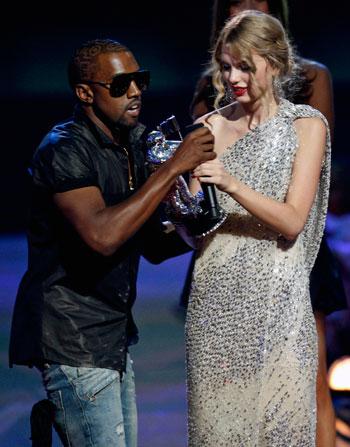 Taylor Swift and Kanye West could be ready to kiss and make up- in their very own adult porn film.
VIDEO: Kanye West Backtracks On Taylor Swift Apology
RadarOnline.com has confirmed with Vivid Entertainment that they plan to make a raunchy film about the feuding pair that will take their heated situation to a whole other level.
"Vivid is definitely considering the situation between Taylor and Kanye for a movie," said the adult entertainment company's founder Steven Hirsch.
Article continues below advertisement
But fans will not be getting a peek under their designer duds because look-a-likes will be playing their parts.
"We've only just begun to think of who would be right for the lead roles," Hirsch said.
"We feel pretty confident that we'll nail it as far as physical types."
While the adult film company plans to play off of the infamous MTV VMA incident that occurred between the two in 2009, they may end up turning back the clocks.
"We have a lot of creative liberty in a parody and we might go backwards in time to examine a possible relationship that Kanye and Taylor had prior to the infamous VMA incident," Hirsch said.
As RadarOnline.com previously reported, West has been known to take photos of his genitals and send them to women while Swift has much more of a wholesome image.
"We're not concerned about backlash because both are public figures but, let's be clear, what we're producing is a parody," Hirsch said.