SPECIAL REPORT: How Prince William And Kate Middleton Fell In Love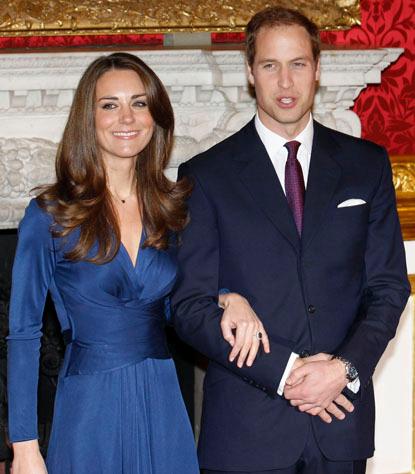 She's been called "Waity Katie" and with good reason.
The love between Prince William and Kate Middleton is no fleeting fling. They've been together ten years - their friendship blossomed into love - and so in a special report, RadarOnline.com recounts just how the heir to the British throne fell in love with someone from the middle class and has kept a relationship going that many believe will endure the pitfalls of royal life.
Article continues below advertisement
In 2001, Kate and William met while university students at St. Andrews in Scotland. "We were friends for over a year first," William said in a recent TV interview, explaining how their romance has evolved. "It just sort of blossomed from then on. We just spent more time with each other, had a good giggle. Had lots of fun and realized we shared the same interests and had a really good time."
William expanded on the idea of how laughter has brought them closer. "She's got a really naughty sense of humor, which kind of helps me because I have a very dry sense of humor so it was good fun. We had a really good laugh and then things happened."
In the same interview, Kate revealed that after initial shyness ("I think I actually went bright red when I met William...and sort of scuttled off feeling very shy") they became "close friends" from early on. She was quick to shoot down a rumor that she had a picture of the prince on her wall: "He wishes. No, I had the Levi's guy on my wall, not a picture of William."
During their time in school, the couple lived under the same roof with other friends before jumping into a romance, which helped them get to know each other deeply. While their friends were "surprised" that the two became a couple, the pals quickly got on board with the relationship.
Article continues below advertisement
Living together allowed the two to indulge in the small pleasures of life away from prying eyes. "He did cook for me quite a bit at university and it would always come with a bit of angst if something had gone wrong and I'd have to wonder in and save the meal," William added. "When I was trying to impress Kate, I was trying to cook these amazing, fancy dinners and I'd burn something, something would overspill, something would catch on fire, and she'd be in the background trying to help and basically take control of the situation."
NEW PHOTOS: Prince William & Kate Middleton Pose In London
The two briefly broke up in 2007 after nearly five years together, through they reconcile within months. The separation only helped them appreciate each other more. "It was very much trying to find our own way and we were growing up," William explained. While Kate admitted that she wasn't "happy" about the split, in hindsight she admitted it helped. "It made me a stronger person. You find out things about yourself that maybe you hadn't realized...I think you can get quite consumed by a relationship when you're younger. I really value that time..."
Article continues below advertisement
William has also touched on the couple's resilience, thanks to their strong foundation: "Being friends is a massive advantage and it just went from there. Over the years, I knew things were getting better and better. We went through a few stumbling blocks, every relationship does, but we picked ourselves up and carried on."
Kate added that their lengthy relationship only adds to their confidence in their future marriage. "You do get to know each other very, very well. You go through the good times, you go through the bad times, both personally and also within our relationship as well."
As for the future, the two share an optimistic view.
"We're hugely excited, we're looking forward to spending the rest of the times together, the rest of our lives together," William said.
The couple is expected to marry in the spring or summer of 2011.
Prince William is the first British royal to marry a commoner in 350 years.
RELATED STORIES:
VIDEO: Prince William On Kate Middleton 'No One's Trying To Fill My Mother's Shoes'