Russell Brand To Be Honored By Fellow Comedians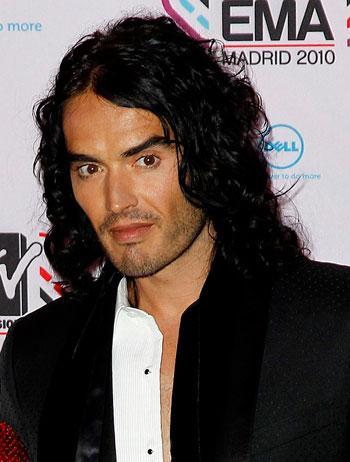 While he is always content to let wife Katy Perry get the spotlight, Russell Brand will have his fair share of attention come December at a Los Angeles fete honoring his talent and charity work.
On December 4 at LA Live's Club Nokia, a group of Hollywood's funniest comedians will be assembled for the first-ever Variety's Power of ComedySM event to raise funds and awareness for women's cancer research through the Noreen Fraser Foundation's Men For Women Now Initiative.
Article continues below advertisement
Get Your Ticket To The Event Here
Besides honoree Brand, there will be performances by Aziz Ansari, Sarah Silverman, Bob Saget, Patton Oswalt, BJ Novak, Nick Kroll, and Brandon T. Jackson among others. Other Men For Women Now supporters who will be on hand include Jason Segel, Jack Black, and Neil Patrick Harris.
"We're so excited to hold Variety's first ever Power of Comedy event," said Michelle Sobrino, Associate Publisher of Variety. "The evening will bring together an incredible group of comedians to generate awareness and raise money for the Noreen Fraser Foundation. With a night full of laughs, and a truly deserving cause at the core, we hope to raise awareness and empower fans to get involved and support much-needed funding for women's cancer research."