Exclusive
'Real Housewife' Kim Zolciak And Boyfriend Considering Spin-Off Show Featuring Wedding And Baby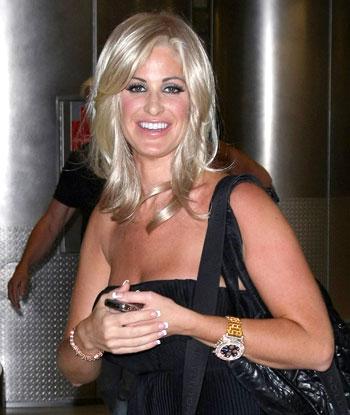 Kim Zolciak's boyfriend Kroy Biermann wants to get married to the Real Housewives of Atlanta star before she has her baby, RadarOnline.com can reveal.
And although the pregnancy was not planned, both Zolciak, 32, and Biermann, 25, are moving forward with plans for their future and are even considering proposals for their own reality spin-off which would feature their wedding and new baby too!
Article continues below advertisement
A source told RadarOnline.com: "Although the pregnancy was not planned they are 'thrilled' about the news.
"Kroy really loves Kim and he wants to get married before she has her baby and that is something that she would be happy to do.
"Kim knows that having this baby represents a great opportunity and she is already in talks about her own reality show spin-off starring Kroy.
EXCLUSIVE: Kroy Biermann To Pop The Question To 'Real Housewife' Kim Zolciak
"Obviously, this would represent a real problem for Real Housewives of Atlanta because they wanted her baby and any wedding for their show, so, at the end of the day; it will all come down to money.
"But one solution would be if the spin-off was by the same producers, then everyone would be happy, but Kim knows this is a real commercial opportunity for her and Kroy.
"She already has a big fan base and he does as well because he is a NFL player with the Atlanta Falcons.
Article continues below advertisement
"These are definitely exciting times for the couple."
EXCLUSIVE VIDEO: Atlanta Housewife Kim Zolciak Brushes Off Engagement Rumors
Zolciak confirmed her baby news in an interview with Life & Style Magazine saying, "I was surprised! While it wasn't planned, God clearly has a bigger and better plan for us and we're excited."
In October, an ex-boyfriend of Zolciak's spilled the beans of her pregnancy. "I was appalled and disgusted by that. I wasn't through my first trimester - you never know what could happen," Kim told the magazine.
Zolciak, 32, has two daughters (ages 13 and 9) from a previous marriage, and has been dating Biermann, 25, a defensive end for the Atlanta Falcons, since this past May.
But RadarOnline.com has learned that one person who isn't ecstatic about Kim's baby news is her Real Housewives Of Atlanta co-star NeNe Leakes.
The source revealed: "In public NeNe is supporting Kim but in private she has told some people she believes that Kim got pregnant on purpose. For whatever reason - NeNe's nose is a little out of joint over this."