Randy & Evi Quaid Due To Appear In California Court Tuesday - But Will They Show?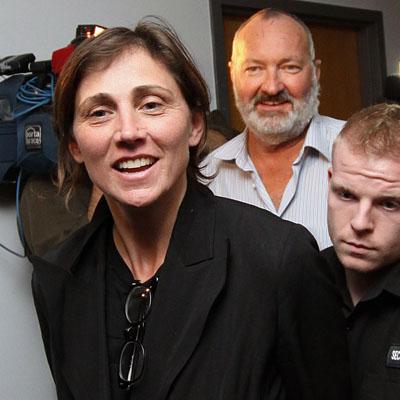 UPDATE: The Quaids were expected in court at 8:30 a.m. PT. They have not yet arrived.
Randy and Evi Quaid have been ordered to appear in a Santa Barbara, California courtroom Tuesday, RadarOnline.com has learned, to hear the felony vandalism charges against them for a September incident in which they're accused of damaging the guesthouse of a home they used to own.
After repeatedly missing court appearances in a different case, the couple had to post $1 million bail to guarantee their appearance Tuesday.
Article continues below advertisement
After they recently sought refugee status in Canada - and appeared on national TV claiming they're being hunted in the states by predators they refer to as "star whackers" - it's anyone's guess if they'll show.
On Monday, Randy, 60, and Evi, 47, appeared on Good Morning America in a taped interview from Vancouver. In it, they claimed "star whackers" -- which Evi said include an estate planner, an accountant and organized crime families -- were working against them to seize their wealth.
"We are refugees -- I mean that's essentially what it is -- Hollywood refugees, seeking to be left alone by the criminals," Evi said. "I genuinely feel like these people are trying to kill us."
The couple said the "star whackers" could also be responsible for the deaths of actors Heath Ledger and David Carradine, as well as other career-killing scandals in Tinseltown.
"Robert Blake could have been set up," Evi said, as well as making the unsubstantiated belief that Mel Gibson was "drugged" during his world famous foul-mouthed rants posted exclusively on RadarOnline.com.