PHOTOS: The Style Secrets Of Sexy AMA Stars!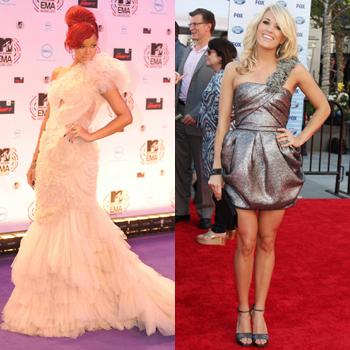 They are all gorgeous, talented and know how to bring sizzle to the stage, but the sexiest ladies in music all have their own agenda when it comes to their style. In honor of the American Music Awards, which will air live on ABC on Sunday November 21 at 8/7c, RadarOnline.com looks at the style secrets of the AMA stars!
It would only be fair to start with the one, the only, Lady Gaga. Born Stefani Joanne Angelina Germanotta, the 24-year-old New Yorker became an instant international icon when her debut album, The Fame, dominated the Billboard charts in 2008. Though her music was an instant success with both fans and critics, it was her bizarre and eccentric style that really played a part in putting her on the map.
Article continues below advertisement
Whether hitting the stage of one of her shows, the tarmac of an international airport, or strolling the streets on a Sunday afternoon, Gaga is always dressed to shock in beyond wacky wardrobe choices. From her meat dress at the MTV Video Music Awards and her full body wig dresses to her towering Alexander McQueen armadillo heels, you never know what Lady will be wearing.
Katy Perry Kissed a Girl and the world liked it! As soon as her debut pop album hit the radio, everyone was humming to Katy's catchy lyrics. Resurrecting the pin-up girl style of the 1940's and adding her own fruity twist, Katy's eccentric style identity is quite different than anyone else out there. A fan of bright, tight and poppy, the hot-bodied star will wear anything from Syren Latex dresses covered in cookie print to elaborately embellished bustiers and body suits.
Article continues below advertisement
See Katy Perry looking 'Pretty In Pin-Up' here
Alicia Keys is a New York girl who has always stayed true to her city upbringing, especially when it comes to her style. While the California Gurls wear bright colors and flashy patterns, Alicia tends to keep her look on the more sophisticated side, opting for dark colors, army greens and metallics.
See Alicia's 'Sexy In The City' Style here
And when it comes to country's sexiest crooners, Taylor Swift and Carrie Underwood are definitely the most watched fashionistas. Though their style is strikingly similar, as both love metallic minis and one-shouldered frocks, Carrie tends to glam it up a little bit more in sophisticated style, while Taylor brings a bit more 'girl next door' to the red carpet.
See Taylor here and Carrie here
If you want to talk about a star who is devoted to fashion, than Rihanna is the girl for you. Totally fearless when it comes to rocking looks hot off the runway, Rihanna transformed her style identity in the past few years, going from to fem to fearless! With her punk rock hairdo (which seems to change color with the season) and her exotic looks, the Barbados born beauty isn't afraid of wearing clothes that 'aren't her style,' instead owning anything she puts on her body.
Article continues below advertisement