PHOTOS: Star Scents! Bikini Babes Who Have Their Own Fragrance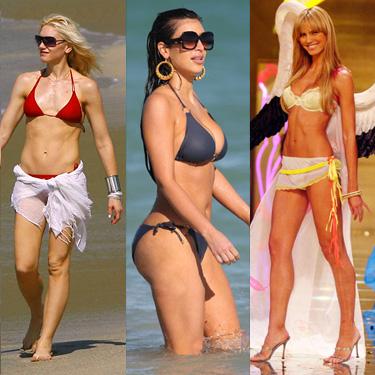 You may not be able to steal these star's sexy beach bods, but you can definitely score their scent!
RadarOnline.com has compiled photos of Hollywood's hottest athletes, singers, actresses, supermodels and sport stars who have their very own fragrance, and stripped them down into their skimpy bikinis.
Want to smell like a bikini bombshell? Kim Karadashian is quickly staking her claim in the cosmetics industry, releasing her first fragrance at Sephora this year. The Kim Kardashian Voluptuous fragrance was pulled from the beauty superstore late this summer, when Kim decided to sell her perfume in the mass market at such stores as Target and Macy's.
Article continues below advertisement
How about a babe with a backhand? Maria Sharapova is one the most sizzling hot tennis stars in the world, who recently scored a blinging ring from baller Sasha Vujacic. The ravishing Russian, who loves flaunting her fat-free figure on the beach, has a fragrance, which promises to leave you smelling sweet-not sweaty!
See Maria's sexy and sporty swimsuit body.
Smelling like an Angel is easy, due to Heidi Klum's simply named scent 'Me.' The Project Runway babe launched her fragrance in 2002, and it has been going strong every since. Getting the German's gorgeous bikini body, however? Not so simple!