PHOTOS: John Travolta Shows Off His Wings.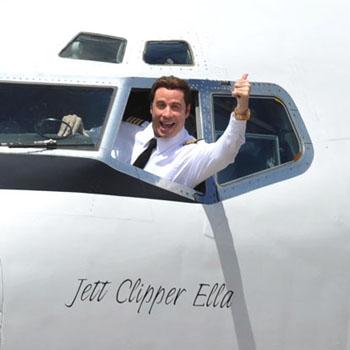 Actor John Travolta flew his own Boeing 707 and arrived in Sydney Friday to celebrate Qantas' 90th birthday--but vowed he'd turn right back around if his wife goes into labor, RadarOnline.com has learned.
John Travolta Shows Off His Wings
'If my wife goes into labor, I'll have to take the plane straight back on a 22-hour flight,' Travolta said. 'If I get a call, I may have to say adios."
Travolta, who is the the Aussie flagship carrier's roving international ambassador, was guest of honor at the celebrations for thousands of staff, family and friends at the Qantas jet base next to Sydney's domestic terminal.
Article continues below advertisement
Travolta, 56, held a press conference to mark the occasion but journalists were told not to ask him about the mid-air engine blow-out that caused a Quantas jumbo jet to make an emergency landing on Thursday.
Back home, he and wife Kelly Preston are expecting their third child, described as a "miracle" by the acting pair.
VIDEO: John Travolta Lands Aircraft In Haiti; Brings Supplies And Scientology
The couple has a daughter, and their son Jett died January, 2009, after suffering a fatal seizure at their home in the Bahamas.