PHOTOS: Bikini Wars! Sexy Stars Who Have Shared Lovers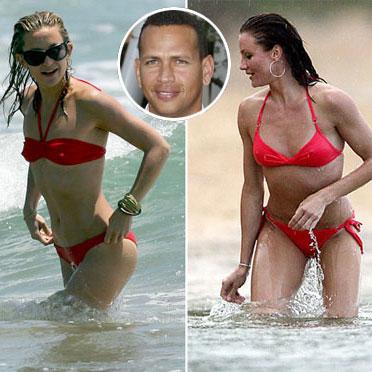 These sexy stars have a lot more in common than their smokin' hot bikini bods - they have been with the same men!
Hollywood's sexiest stars who have shared lovers meet up on the battlefield of the beach in RadarOnline.com's weekly feature Bikini Wars, where only the hottest bodies go home with the gold.
Cameron Diaz and Kate Hudson both have a thing for the good ol' American pastime of baseball - and one of its' star players.
Article continues below advertisement
The blonde SoCal beauties have both become stats on Alex Rodriguez's impressive roster of beautiful exes, and though neither bikini babe scored a homerun with the player, one of them will win out in our swimsuit strip down.
Find out which big screen babe scores the most points with her bikini bod here.
Taylor Swift likes to write songs about all her ex-boyfriends, so when the world heard the lyrics of her Dear John tune, it became obvious that the blonde beauty had taken a walk down Mayer lane.
Hard-bodied Friend Jennifer Aniston is no stranger to the music man's loose-lipped ways, bottoming out with him as well.
However, it is clear Taylor should have learned from the elder star on the dating front, should she also take a hint from Jen's sizzling bikini style as well?
See Jennifer Aniston and Taylor Swift battle it out here.
Once upon a time, before Lindsay Lohan was a Mean Girl and sentenced to months in rehab, she experienced sweet sixteen puppy-love with the blonde little bro of a boy-banderer.
Article continues below advertisement
Years later, all-grown up, that boy realized that Hogan Knows Best, falling for the legendary wrestler's bikini blonde daughter.
Who is this man in mystery, and which of his exes has the most scorching hot body on the beach? Find out here.
Before Paris Hilton started dating BFF Nicole Richie's baby-daddy's bro, he was engaged to be married to another bikini blonde. Who was the Aussie model-turned-actress and is she hotter than the heiress?