PHOTOS: Bikini Babes - From Tiny To Tall!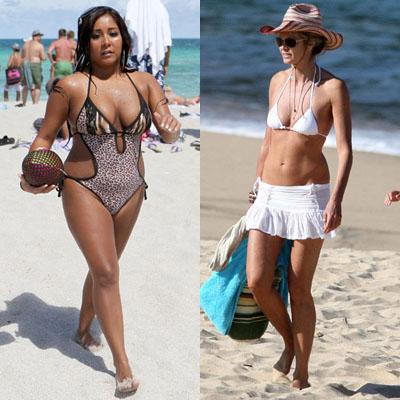 No matter how tall they are, when Hollywood's hottest stars strip down and hit the beach in their skimpy swimsuits, they still make quite the sexy splash!
From Jersey Shore's vertically challenged Snooki to statuesque supermodel Elle "The Body" Macpherson, RadarOnline.com is lining up the best bikini bodies by height in this special photo feature!
What Snooki lacks in height, she definitely makes up for in attitude!
Article continues below advertisement
The 4'9" guidette managed to add some inches to her petite figure with her trademark pouf, but since the 'do is no more, she has to rely on heels -- and her sharp tongue -- to stand tall in the crowded clubs.
Though stars like Hilary Duff, Fergie and Carmen Electra are on the shorter side, they definitely make the most of every inch by keeping in tip-top shape.
And when it comes Megan Fox's hot five feet and four inches of flesh, the sexy star definitely knows how to flaunt it in skimpy bikinis on the beach.
The ex-Transformers babe is the same height as Britney Spears, Scarlett Johansson and Drew Barrymore!
Bootylicious Beyonce levels out at the same height as Jessica Alba, Denise Richards and Kate Hudson at 5'6", while big screen babe Kate Beckinsale has two inches on them -- without her heels on!
When it comes to supermodels, everybody knows that Kate Moss is the shortest catwalk crawler in the biz.
The flawlessly faced Brit is 4 inches shorter than Brazilian GlAmazon Gisele Bundchen!