PHOTOS: American Music Awards Flashback - Best, Worst & Wackiest Fashions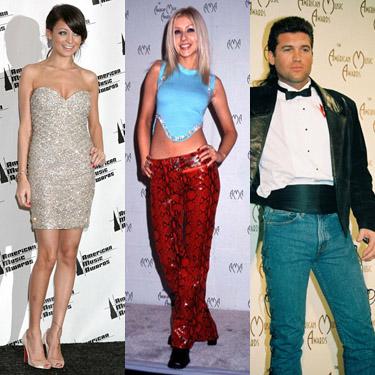 RadarOnline.com will be picking the style winners and sinners live from the red carpet of the American Music Awards this coming Sunday, but before all the action begins, we are taking you on a walk down red carpet memory lane!
From Vanilla Ice to Taylor Swift, we have compiled photos of the best, worst and wackiest fashions from the music awards show over the years in this special photo feature.
Back when Will Smith was the Fresh Prince, his fashion was a bit more bumblebee than fly! The blockbuster superstar, who got his start in the early 1990's on his popular television sitcom, hit the show in 1991, wearing a totally wacky black and yellow leather ensemble. Not exactly Big Willy style!
Article continues below advertisement
During the same decade, Vanilla Ice looked not-so-Cool As Ice in his Hammer pants and fanny pack, hip-hop trio promoted safe sex on the red carpet, covering their denim overall duds with condoms and The Nelson Brothers (who only wanted our Love and Affection) showed off their patriotic spirit with leather, sequins, ripped acid-wash denim and big hair.
Christina Aguilera unleashed her Genie in a Bottle in the year 2000, showing off her belly in a crop top and snakeskin pants (The pop star clearly hadn't discovered her love for Versace at that point!) while Sisqo thankfully didn't show off his Thong, tha tha tha thong-going shirtless in a red leather look.
As for fabulous fashion, you can always count on Taylor Swift and Carrie Underwood to heat up the red carpet. Taylor was sweetly styled in 2008 wearing a Collette Dinnigan mini and Christian Louboutin heels, while the American Idol stunned in 2009, clad in a simply sexy Theia one-shouldered number.
Rihanna added some drama to the mix in 2009 with her black and white Marchesa cutout gown, making up for her lackluster frilly Zac Posen frock in 2008.
Article continues below advertisement
Beyonce knows how to glam it up to the max! After years of coordinating on the red carpet with her Destiny's Child band mates, the diva showed off her stellar solo style in 2007, wearing one of her mother's House of Dereon designs.
From the 1980's until now, see the looks that rocked and shocked the American Music Awards on RadarOnline.com!
The American Music Awards will be broadcast live on ABC from Los Angeles Sunday night.