PHOTOS: All-American Bikini Babes To Be Thankful For!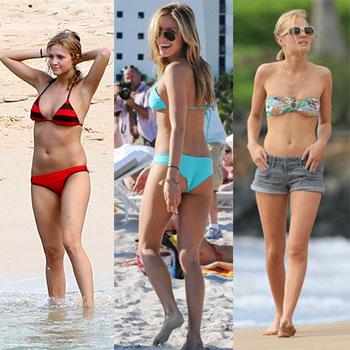 When these American beauties hit the beach in their skimpy swimsuits, they gobble up all the attention!
In honor of the Thanksgiving holiday, RadarOnline.com has compiled photos of the bikini bodies we are truly grateful for on this special day.
Kate Gosselin is a gorgeous reality star, who is definitely cooking up a lot of turkey for her brood this holiday.
With her gaggle of eight kids, the hard bodied hottie knows how to rock a bikini in stellar style.
Article continues below advertisement
We can guess what Kim Kardashian will be doing this Thanksgiving -- the reality star turned entrepreneur has a thing for football -- but most specifically, its players.
The curvy bikini babe could be playing the field somewhere this holiday!
See Kim playing around in her bikini here.
Cameron Diaz's beach body is as sweet as pumpkin pie.
The SoCal native loves to soak up the sun in her red hot bikini -- and we love to see her do it.
MORE ON:
Kristin Cavallari
Cam definitely has a beach body worth celebrating.
And who needs to watch the Thanksgiving Day Parades when Kate Hudson is making a splash in her bikini?
The California girl is definitely better without the dressing.
See Kate's bikini-clad body here.
What other bikini bodies are we thankful for? Find out in RadarOnline.com's special holiday photo feature.
RELATED STORIES: