Octo-Mom Doc's Closing Argument: 'This Lady Has Bad Ovaries'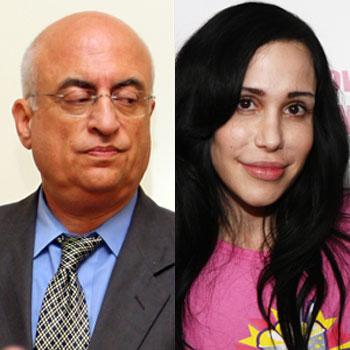 The Beverly Hills fertility doctor who treated Octo-Mom acted appropriately when he implanted multiple embryos into her, given the poor condition of her ovaries and her desire to have a large family, a defense attorney told court Thursday.
Closing arguments in the hearing are expected to continue throughout the day to determine whether Dr. Michael Kamrava will lose his medical license in California after performing multiple in-vitro fertilization operations on Nadya Suleman, who famously gave birth to octuplets in January 2009.
Article continues below advertisement
Dr. Kamrava's lawyer argued that Nadya's decision to have a large family was her right and that he acted appropriately while treating her.
"The guidelines don't say people can only have one or two babies," Henry Fenton said.
Nadya was implanted with 60 embryos throughout her years of treatment. She has 14 children, all of whom were a result of Kamrava's fertility treatments.
Dr. Kamrava testified last month that he used fresh embryos for each treatment because Nadya insisted and that she wanted to us all of them.
He said, "She just wouldn't accept doing anything else with those embryos. She did not want them frozen; she did not want them transferred to another patient in the future. "
In his closing arguments, Fenton said Dr. Kamrava delivered the best possible care to Octo-Mom.
"This lady has bad ovaries…and couldn't get pregnant," he said of Suleman.
Attorneys for the state claim the Dr. Kamrava ignored standard medical practices by implanting the dozen embryos into Suleman that resulted in the birth of her octuplets.