VIDEO: Justin Bieber Wins Big At The American Music Awards!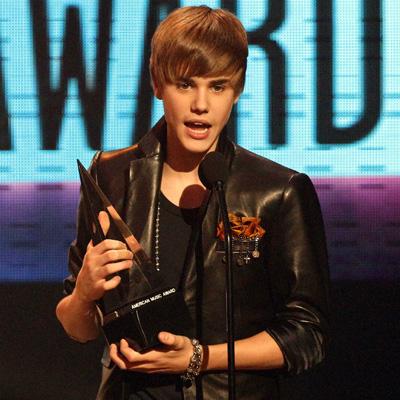 The 38th Annual American Music Awards was full of performances by some of the industry's top artists, but lacked excitement this year and left most viewers disappointed.
Not disappointed was teen superstar Justin Bieber who took home the awards for Favorite Artist Of The Year, Favorite Pop/Rock Male Artist and T-Mobile Breakthrough Artist.
Noticeably absent from the awards show was Lady Gaga, who despite being one of the biggest selling artists in the world, was only nominated for one award – which she lost to Bieber.
Article continues below advertisement
"I come from the smallest town in the world of like 30,000 and never thought this was possible, so thank you very much," Bieber said after his first win, referring to his small Canadian hometown of Stratford, Ontario.
The show opened with a performance by Rihanna and continued with artists such as Enrique Inglesias, Miley Cyrus, Taylor Swift, Kid Rock, Black Eyed Peas, Katy Perry, Justin Bieber, Bon Jovi, Christina Aguilera, Train, Usher, Ke$ha, Santana and Gavin Rossdale.
One of the most entertaining performances of the night came from Pink with Raise Your Glass, complete with acrobatic flyers and balloons and confetti falling over the audience. The singer recently announced that she is pregnant with her first child.
"I've been singing Eminem since I was three and Usher is my mentor, so this is big," Bieber said of his Pop/Rock win over Eminem and Usher.
"I would like to thank Michael Jackson because without Michael Jackson none of us would be here."
Article continues below advertisement
Bieber gave credit to his fans during his many wins, and particularly pointed out the man who discovered and signed him: Usher.
"I really was embraced by a man named Usher Raymond. I feel like he's had such an amazing career, it'd only be right if I invited him up here to share it with me," Bieber said after winning Favorite Artist Of The Year.
Best And Worst Dressed At The Oscars
"He's not only my mentor, but my best friend and my big brother."
New Kids On The Block and Backstreet Boys didn't disappoint as the much-anticipated closers combined for medley of their greatest hits including Everybody, Hangin' Tough, I Want It That Way and Step By Step.
THE FULL LIST OF WINNERS:
Best R&B Album – Usher
Favorite Pop/Rock Band or Duo – The Black Eyed Peas
Favorite Country Female Artist – Taylor Swift
Favorite Latin Music Artist – Shakira
Favorite Soul R&B Female Artist -- Rihanna
Article continues below advertisement
Favorite Country Male Artist – Brad Paisley
T-Mobile Breakthrough Artist – Justin Bieber
Favorite Pop/Rock Male Artist – Justin Bieber
Favorite Country Band, Duo or Group – Lady Antebellum
Favorite Alternative Rock Music Artist – Muse
Favorite Adult Contemporary Artist – Michael Buble
Favorite Soul R&B Male Artist – Usher
Favorite Artist Of The Year – Justin Bieber
RELATED STORIES: