Jesse James Cheats Death In Baja Desert Race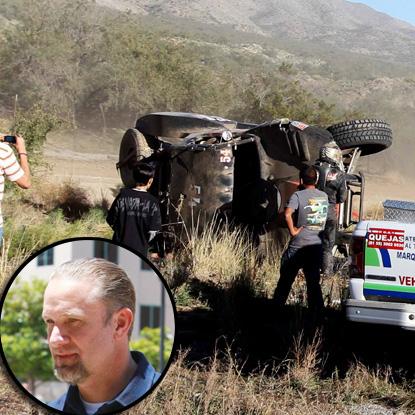 Jesse James cheated death when he flipped his trophy truck during a recent desert race in Mexico, RadarOnline.com can reveal.
Fortunately, neither the motorcycle mogul nor any fans were seriously injured in the crash during the 1061 mile long 43rd Tecate SCORE Baja 1000.
Daredevil James reportedly crashed his off-road trophy truck on November 20, 2010, near San Felipe around 160 miles into the race.
After making some field repairs, James returned to the race at mile 521 of the legendary classic Mexican desert race which annually attracts 250,000 fans along the route.
Article continues below advertisement
It has been an eventful period for James. A judge recently ordered him to complete a 730 Evaluation with his wife Janine Lindemulder in their bitter custody battle over their six-year-old daughter Sunny James.
And sadly, his new girlfriend Kat Von D's Hollywood house burned down on Sunday night while her cat was inside at the time.
The 28-year-old L.A. Ink star, whose real name is Katherine von Drachenberg, has been dating West Coast Choppers star Jesse James since August, after James finalized his divorce with Sandra Bullock.
She wrote in a later Tweet that despite the misfortune, she'd be plodding on with a tour promoting her latest book, The Tattoo Chronicles.
Afterwards she Tweeted about the fire: "My house burned down last night with my cat inside," Von D Tweeted Monday. "Finally get to sleep away the remainder of today. Hope tomorrow is gentler."
RELATED STORIES:
EXCLUSIVE DOCUMENTS: Read Kat Von D's Divorce Papers