Exclusive
EXCLUSIVE: Playboy's Bridget Marquardt On Saving Relationship From Reality Show Curse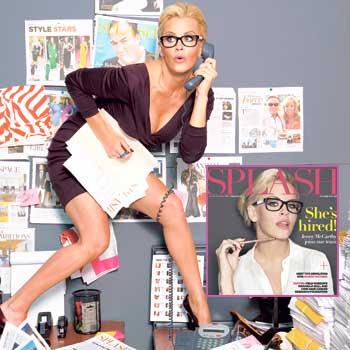 Former Girls Next Door star Bridget Marquardt knows a thing or two about filming a successful reality series, but when it comes to shooting her very own TV show with her boyfriend of two years, she's now giving it a second thought.
"It's kind of fun to be able to share it with my boyfriend, but at the same time I have concerns with that as well," she confessed to RadarOnline.com exclusively. "They always say that all these reality show couples end up breaking up and lots of problems and stuff so I'm definitely listening to that and taking that into consideration. Maybe a formatted show is a better way to go."
Article continues below advertisement
"I wouldn't say that I'm nervous about it or wouldn't do a reality show because of it, but I would say that it is something to consider," Bridget added. "When the spotlight is on you and your relationship and people are constantly critiquing that relationship and how you are and if that person doesn't come with you to one thing then you're breaking up or you're fighting, I think it's definitely something to take seriously and consider."
Since moving out of the Playboy Mansion, Bridget has moved on with her life with a new boyfriend, director Nick Carpenter, and a new house! – all of which was going to be captured on camera.
They've shot the pilot, but the rest may take a different focus.
VIDEO: Kendra Wilkinson Talks Playboy, Sexiness & Hank
"It's a little in transition now and we shot it kind of as a reality show and now we're thinking maybe we want to do something a little bit more formatted, so we're playing around with it. We'll see. I'm in no big hurry for it," she said.
Article continues below advertisement
Bridget filmed the popular E! series Girls Next Door for five seasons with on-camera housemates Kendra Wilkinson and Holly Madison.
"It's not that different shooting the reality show without the girls," she said. "We shot a lot of stuff individually. They were always following our individual stories even though we all came together at the end a lot of times…so it doesn't seem all that different."
RadarOnline.com caught up with Bridget just after she'd bicycled 14 miles from Malibu to Santa Monica in the Ride for Red rally to raise funds for the Red Cross.
Audiences love unscripted TV couples, but recently some of them have publicly split and fans have seen it all unravel -- including OC Housewives Vicki and Donn and Tamra and Simon, The Bachelor's Jake and Vienna, and The Bachelorette's Jillian and Ed, just to name a few.
Bridget does not want to be next in line.
"They do call it the curse and I'm really happy in our relationship, we both are really happy," she said. "So I would hate to do anything that might…you know…We love working together, we love spending time together, and work well together so we are actually working on a couple of movies. They're in their early stages right now, but we want to do some more horror movies together where I'm producing and he's directing and his brother is actually a writer so we kind of have a team here!"