Exclusive
EXCLUSIVE: MySpace Founder In Dirty Multi-Million Dollar Divorce - Why He's Keeping It Secret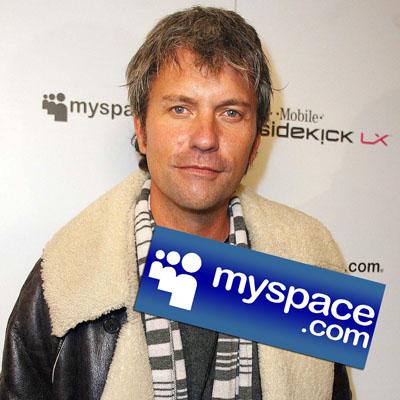 He made a fortune creating a social network, but now MySpace founder Chris DeWolfe is in the middle of a multi-million divorce - and all of the dirty details are being kept secret.
RadarOnline.com has learned exclusively that DeWolfe, 44, and wife Lorraine, 39, have been battling in a Los Angeles court for more than two years and their divorce file is sealed with all parties gagged by a judge's order - an ironic twist for a man who gained immense wealth by allowing people to share personal information.
Article continues below advertisement
DeWolfe's wife has obtained a restraining order against him, RadarOnline.com also learned.
She's also filed a complaint with Los Angeles police and the Department of Children and Family Services.
In a petition filed with Los Angeles Superior Court last Friday, Lorraine successfully pleaded with a judge to grant a temporary restraining order against DeWolfe, preventing him from having contact with her and their four-year-old daughter.
RadarOnline.com has chosen not to reveal the nature of Lorraine's allegations because they involve a minor.
Lorraine met with police investigators once and the Los Angeles County Department of Children and Family Services multiple times, RadarOnline.com learned.
DeWolfe has not been charged with a crime.
The beleaguered internet pioneer, who was once romantically linked to Paris Hilton, did not return RadarOnline.com's request for comment.
Article continues below advertisement
Lorraine's father told RadarOnline.com in an exclusive interview that he is upset the couple's daughter is entwined in their domestic problems.
"It's really sad because they have the most beautiful little girl in the world... (but) I've always told Lori to try to keep their beautiful daughter out of the domestic problems that they have," Bill Hitselberger told RadarOnline.com.
DeWolfe met his future wife when she was a fellow business school student, according to the book Stealing Myspace, which detailed the battle to control one of the most popular websites in the world.
The pair eventually married and after graduating from college in 1997.
Six years later, Chris founded MySpace and it quickly became the most popular social network on the web before Facebook achieved domination in the social networking scene.
Rupert Murdoch's News Corp. bought MySpace in 2005 for $580 million, although insiders suggest DeWolfe and co-founder Tom Anderson didn't own significant equity in the business.