Exclusive
EXCLUSIVE: Lindsay Lohan's Treatment Team Wants Her Parents In Therapy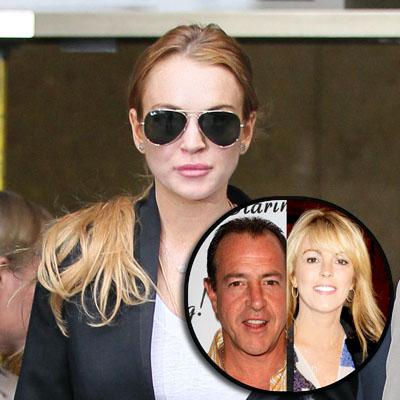 The war between Lindsay Lohan's parents has become a significant factor in her treatment, and if the animosity between Dina and Michael can't be toned down it will jeopardize the actress's recovery, sources close to the situation exclusively tell RadarOnline.com.
And while Michael and Dina have battled publicly and privately for years, Lindsay's treatment team hopes to get them in the same room for some much needed family counseling, RadarOnline.com learned.
Article continues below advertisement
That's the inside story of Lindsay's progress at the Betty Ford Center in Rancho Mirage, California and a key issue as the star faces her
addiction issues.
A source with knowledge of the situation tells RadarOnline.com exclusively that Lindsay, 24, is working through some "very intense issues regarding her family, specifically, Michael and Dina's contentious relationship.
"The fact that Lindsay took the first step and has been spending time with her father, for the first time in years, is very significant and important for her ongoing recovery. The fact is, when an addict has a supportive, loving family, their recovery is that much stronger, period."
After Lindsay was granted a day pass from the Betty Ford Center last weekend and returned to her Hollywood apartment reports surfaced that Michael was refused entry into her apartment building.
But according to a source, Lindsay turned Michael away not because she didn't want to see him but because she was implementing the recovery tools she's been taught at the Betty Ford Center.
"Lindsay was surprised that Michael showed up at her building. Her refusal to see him wasn't out of any ill will, but Lindsay is trying to enforce boundaries that her counselors have been working with her on," the source told RadarOnline.com.
Article continues below advertisement
"Lindsay must give everyone around her, including her parents, boundaries. If Michael had just called Lindsay beforehand, and said he would like to see her, she would have probably allowed it.
"Part of living with an addiction, and being in recovery, is maintaining those boundaries. It will help Lindsay to feel in control of her life and stay sober."
As RadarOnline.com was first to report, Lindsay and her father, Michael, had an emotional reunion earlier this month at the Betty Ford Center where the two shared hugs, kisses and a few tears when they first saw each other.
MORE ON:
Betty Ford Center
But don't expect Lindsay's mom, Dina, to greet Michael so warmly. The Lohan matriarch is not embracing her daughter's reunion with her father.
"Dina isn't onboard with going to the next family week at Betty Ford if Michael is going to be there. When Lindsay and Dina have spoken on the phone, Dina hasn't spoken negatively about her reunion with Michael, but
she hasn't exactly embraced Lindsay's decision to allow Michael into her life," the source said.
Article continues below advertisement
"Dina certainly isn't encouraging the relationship between Michael and Lindsay. Lindsay shouldn't have to navigate between her parents, she is grown-up, and she shouldn't be used as a pawn.
"Dina's approval is very important to Lindsay."
According to a source, Lindsay's treatment team is hopeful that Dina will come around, and participate family counseling while Lindsay is at Betty Ford.
"If Dina doesn't, Lindsay will work through that. She truly is getting stronger every day," the source said. "This isn't about Dina, this isn't about Michael, it's about doing anything possible to give Lindsay the best tools, and environment for her to maintain her sobriety."