Exclusive
EXCLUSIVE: Charlie Sheen On NEW Rampage With Hookers & Cocaine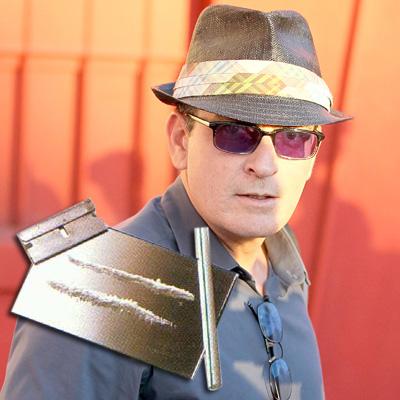 Out-of-control Charlie Sheen is on a NEW rampage with hookers and cocaine, partying wildly since returning from New York, RadarOnline.com is reporting exclusively. And the situation is so grave that one close friend, who has known him for more than 20 years said: "Charlie Sheen is going to die this week."
Sheen's bender comes just days after he was hospitalized in New York, where he went bonkers while using coke, drinking heavily and partying with porn star Capri Anderson.
Article continues below advertisement
That episode ended with police called to Sheen's hotel room and the Two and a Half Men star hospitalized for a psychological evaluation.
Now RadarOnline.com has learned things have gotten even worse for the actor since he returned to Los Angeles and the star's handlers are gravely concerned.
Sheen has been partying in LA using massive amounts of cocaine while getting together with several hookers.
Team Sheen is frantic about Charlie's behavior and one close source said: "Charlie's cocaine use is out of control. The situation has gotten even worse."
Behind the scenes, his handlers are trying to figure out what to do, RadarOnline.com learned.
Sheen wasted little time resuming his drug binge after leaving New York last week. Prostitutes have been at his house for several nights and he has used cocaine non- stop in front of them, RadarOnline.com learned.
MORE ON:
Two and a Half Men
Article continues below advertisement
In New York, he hired porn star Capri Anderson for $12,000 and was so wasted at one point he was found naked, disoriented and with cocaine on his face in a restaurant bathroom.
Sheen later flipped out in his room at the Plaza hotel, and as RadarOnline.com reported exclusively, began screaming the "N" words in his cocaine-induced violent rampage that left his porn pal cowering behind a locked bathroom door.
Amazingly, things have gotten only worse.
"It's been a non-stop party of drugs and hookers since Charlie got home," a source told RadarOnline.com. His handlers have no idea how to get him to stop. "He is completely out of control," the source added. "No one can get through to him."
Even the hookers have been amazed at Charlie's behavior. "He's going crazy partying," one source told RadarOnline.com.
Related Stories: