Exclusive
EXCLUSIVE NEW DETAILS: Charlie Sheen Was Found Naked & Doing Cocaine In Restaurant Bathroom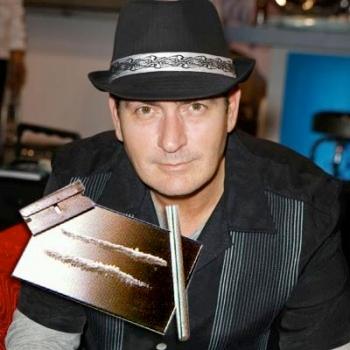 Charlie Sheen was found naked with cocaine all over his face in a restaurant bathroom the night he flipped out and was taken to a New York hospital!
RadarOnline.com has obtained new details from Sheen's wild Monday night that ended with him under psychiatric evaluation on Tuesday.
"Before Charlie flipped out at the hotel and police were called he was wasted at the restaurant," one source with knowledge of the situation told RadarOnline.com. "He was snorting cocaine and drinking vodka. He was also drinking wine.
Article continues below advertisement
"And he was wasted."
Charlie has been out of rehab for only two months. He has battled crack addiction and alcoholism but as RadarOnline.com reported exclusively he has been out of control, doing cocaine for the past several weeks.
Sheen was at Daniel restaurant in New York with porn star Capri Anderson, whose real name is Christina Walsh. Anderson was working as an "escort" and charged the Two and a Half Men star $12,000 for the night, as RadarOnline.com reported exclusively.
"At the restaurant Charlie, his assistant and two male friends, with all their escorts were in a private room. Charlie was wasted," the source said.
"At one point he convinced Capri to go to the bathroom with him. When they got into the bathroom he started snorting cocaine and then took off his pants.
"Charlie wanted to have sex with Capri and tried but she stopped him and demanded her $12,000. He didn't have the money on him so she left him in the bathroom!"
Article continues below advertisement
Capri returned to the table and even though it was a private room, waiters and busboys were coming in and out of the room and noticed the commotion. Charlie's assistant got nervous when he didn't come back and asked Capri where he was. She told him and the assistant went to the bathroom to get Charlie.
"When the assistant opened the door, there was Charlie standing there naked with cocaine all over his face! He was delusional and just completely lost. Totally out of it."
Sheen was so delusional later that he trashed his hotel room after smoking cocaine and when cops came to the hotel, he was naked. But he almost never made it to the hotel.
"The assistant helped Charlie get dressed in the bathroom, " the source said. "Charlie was out of it. Gone. Just wasted. At that point the assistant steered him out of there and back to the hotel and the rest of the party came along."