Exclusive
EXCLUSIVE: Andy Dick Suicidal - Comedian 'Depressed & Disillusioned' With Hollywood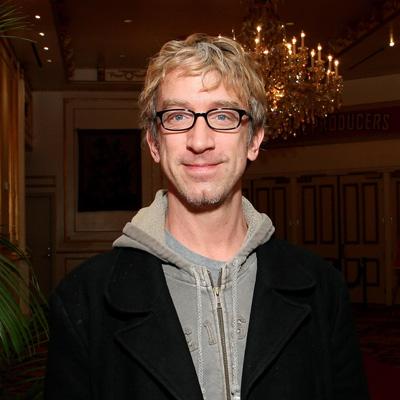 Train-wreck comedian Andy Dick has desperately told a friend he is considering killing himself, RadarOnline.com has exclusively learned.
The notorious hellraiser - who was spotted drunkenly flashing his genitals at a Los Angeles coffee shop last week - has hit rock-bottom and his friend believes that unless he checks himself into a rehab immediately, he will die.
Dick has become depressed and disillusioned with Hollywood and has been going on massive booze and cocaine binges in recent weeks.
Article continues below advertisement
What's more, he is flat broke and begged his friend for an emergency $250,000 loan to help settle his mountain of debts.
His friend told RadarOnline.com: "Andy has openly talked to me about committing suicide and he has definitely hit rock bottom at this point.
"Unless he gets help fast then he's going to kill himself, because he is totally out of control just now."
His friend got a close look for himself at how badly the comedian's life had spiraled out of control when he visited him in, Richmond, Virginia, earlier this month to ask for a loan.
But his visit quickly spiraled after Dick hooked-up with former Survivor contestant Jessica Sugar Kiper on the flight from Los Angeles to Virginia.
Kiper was attending a charity event in the area but she and Dick hit up an instant friendship and the pair became inseparable for three days.
His friend revealed: "Andy started drinking and doing drugs as soon as he got to Virginia and he begged me to lend him $250,000.
Article continues below advertisement
"He told me that he needed the money to pay lawyers fees, back taxes and that his car had gotten re-possessed too.
"I wanted to help the guy but it was too desperate and it was too much money to lend him as well.
"As the weekend went on his behavior just got worse and worse. He would start drinking as soon as he got up in the morning and would be really abusive to people too."
Dick was partying so hard, cops were called to hotel in Innsbrook, Virginia, RadarOnline.com has confirmed.
RadarOnline revealed revealed this week how Dick had exposed himself at Café Audrey in Hollywood on Monday afternoon.
According to an eye witness, Dick was sitting with a group of about four people and kissed one of the guys on the lips before whipping out his privates and fleeing the scene.
"He stood up, took out his d*ck and said something like, 'This is me!'" the witness told RadarOnline.com.
"After that he staggered out down the street, making quite the commotion once he left.
Article continues below advertisement
"It was all really weird and he was so drunk and out of it that I actually felt bad for the guy."
As RadarOnline.com previously reported, this wasn't the first time Dick has acted in an inappropriate way by making his privates public.
Dick crashed a Venice, California house party on the 4th of July, visibly intoxicated and flashed fellow party-goers, eventually leading the owner of the house to escort him out.
The actor/comedian was arrested in January for allegedly "unexpectedly and without invitation" grabbing a man's crotch at a West Virginia bar and "repeatedly groping then kissing him."
Dick was also arrested in 2008 for sexual battery after allegedly pulling down a teenage girls top outside of a Buffalo Wild Wings in Murrieta, California.
His rep did not return RadarOnline.com's request for comment.
RELATED STORIES: