Elizabeth Smart Listens To Testimony Against Her Alleged Kidnapper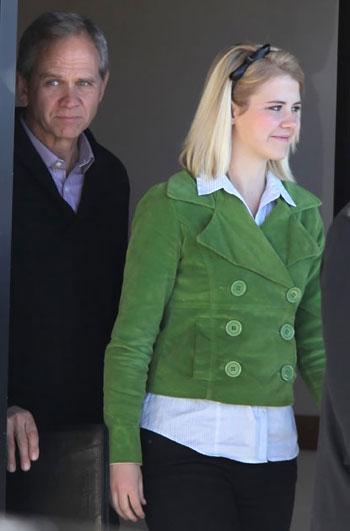 Elizabeth Smart returned to the courtroom on Monday to watch the trial of Brian David Mitchell, whom she said kidnapped, tortured and raped her for nine months before she was found and returned home to her parents. As on previous days, Mitchell watched the proceedings from an adjacent room after a judge removed him when he refused to stop singing hymns and disrupting the hearing.
Smart, 23, who was allegedly kidnapped at knife point from her bedroom when she was 14, testified for three days, detailing her harrowing experience at the hands of Mitchell and his wife, Wanda Barzee.
Article continues below advertisement
Four people who had seen Elizabeth during her captivity testified. Each one said they had seen her but she had not spoken to them.
SHOCKING PHOTOS: Elizabeth Smart Evidence In Kidnapping Case
Retired police officer Jill Fleming Ogilvie said she encountered Elizabeth, Mitchell and Barzee in San Diego and all three were in robes. She said, "Something was wrong with the picture, clearly. It was out of the norm."
Ogilvie said that she approached the group and all she could see of Elizabeth were her eyes through her cover-up.
"I wanted again to interact. I needed to engage the man. I wanted to get a read on them. ... I put my hand up. ... He told me something: "Thou shall not stop my motion or my path," in a biblical way.
"I look to the girl and said, "Are you OK?" At that point her eyes were fearful. I had the impression I was getting her in trouble."
Article continues below advertisement
Ogilvie said she repeatedly contacted law enforcement agencies but was frustrated at their lack of response.
"My gut response was she was in trouble, but I didn't have any probable cause to detain her."
Another witness said she encountered the trio in a library in San Diego, California. Adelia Harrington, a library employee said she saw the group and thought they might have been homeless because of their dress and demeanor. She described what Elizabeth was wearing.
"The girl was wearing a pair of blue jeans. She had shower shoes on her feet and a blue windbreaker, and she had a baseball cap on her head. Her hair was pulled back into like a ponytail."
"What struck me as a little unusual, when they sat down the older woman with the dark hair moved her chair right up against the young woman's chair. The armchairs were touching. These are six-foot tables. They had room to spread out. She was pushed out again. My impression was this teenager had really done something to make the parents angry with her. They were not a happy group. Nothing was said. There was no looking around."
Article continues below advertisement
Elizabeth Smart Calls Kidnapper A Hypocrite
Trevelin Colianni saw the trio at a Burger King in Las Vegas and said he noticed them because of their strange dress -- Smart was wearing a gray wig and sunglasses -- and Mitchell never let go of Smart's wrist.
Colianni called Las Vegas Police but later saw the three on the street walking away from the restaurant.
"It was a look that I'll never forget," Colianni said, describing Smart. "She looked very frightened, very nervous. She looked like her face was quivering ... like a 'help me' look on her face."
A two hour video of Brian David Mitchell's initial interview with the FBI was played in the courtroom.
"You want to accuse me of being a diabolical, evil criminal. ... I am a servant of the Lord," Mitchell insisted to police. "She's had a glorious experience."
FBI agent George Dougherty conducted the interview and called Mitchell a hypocrite and a fraud.
"You are not a servant of Jesus Christ and you need to get over that," Dougherty said as his voice rose in the video.