Elizabeth Smart: My Captivity Could Have Ended Sooner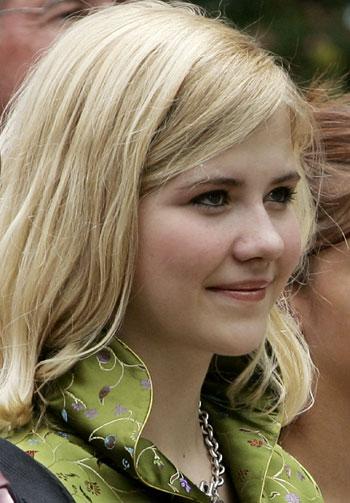 During her revealing testimony on Tuesday, Elizabeth Smart told a court how an encounter with a Salt Lake City detective nearly saved her from her abductors Brian David Mitchell and his wife Wanda Barzee, RadarOnline.com has learned. She also revealed that Mitchell had attempted to kidnap her cousin as well.
Elizabeth Smart Testifies About Kidnapping, Reveals New Details Of Ordeal
A homicide detective encountered Smart, Mitchell and Barzee in the city library several months after they snatched Smart from her home in June 2002. The trio had gone to the library to research a trip to California and San Diego.
Article continues below advertisement
The detective approached Smart and Barzee, who were wearing veils and robes and sitting at a table, while Mitchell used the bathroom.
"The man introduced himself as a homicide detective. He wanted me to remove the veil so he could see my face," said Smart.
But Barzee's hand clenched her leg, a move Smart interpreted as a warning not to say or do anything.
When Mitchell returned, he told the detective that looking under her veil was not allowed in their religion and that Smart was his daughter.
The detective "asked if he could be part of our religion for a day" so he could go back and report the girl was not Elizabeth Smart, she said. But Mitchell refused, saying only her husband could do that.
SHOCKING PHOTOS: Inside of Jaycee Lee Dugard's Kidnapper's Home
The detective left and Smart told the court: "I felt like hope was walking out the door- I was so mad at myself that I didn't say anything.
MORE ON:
Brian David Mitchell
Article continues below advertisement
"I was mad at myself for not taking the chance. I felt like it was so close. I felt terrible that the detective could just walk away... Maybe something would have happened for me. Maybe something would have happened for my family. I was just very upset."
She also detailed an unsuccessful attempt by Mitchell to kidnap her cousin who he to make his next bride. After the attempt, he returned to their camp in the foothills alone, saying that after he cut the window screen and attempted to push the blinds out of the way, he knocked over objects and the noise awoke the occupants of the home.
Mitchell had a revelation that he was to have seven wives plus one, Smart said. He told her that when he obtained other wives it would be her job to demonstrate to them "sexual intercourse and its variations."
Charges against Mitchell include kidnapping and sexual assault of Smart when she was only 14 years old . The trial before Judge Kimball continues.
RELATED STORIES: