Cop: Missed Opportunity To Save Elizabeth Smart Left Me Traumatized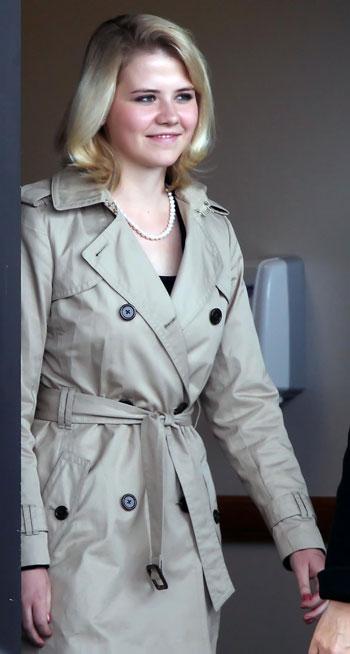 The Salt Lake City detective who failed to spot Elizabeth Smart after he bumped into the 14-year-old and her evil abductors months before she was released claimed he had no regrets about the incident.
Detective Jon Richey testified at the trial of Brian David Mitchell who is accused of kidnapping and sexually assaulting Smart following her 2002 abduction from her parents home.
SHOCKING PHOTOS: Elizabeth Smart Evidence In Kidnapping Case
Article continues below advertisement
"I don't see anything else I could have done," he said.
"It's difficult for me, but I've lived with that — I live with that — and there's nothing I would have done differently."
Although a caller had reported spotting Smart wearing a robe and veil at the downtown Salt Lake City library, the detective told court that Mitchell's calmness convinced him she wasn't Smart.
Richey testified he went to the library and sat beside Smart and Mitchell's wife Wanda Barzee – each was wearing a robe headpiece and veil that revealed only their eyes.
He told the court he never looked under the veil because Mitchell wouldn't allow it, claiming it would have serious religious consequences for the girl.
Richey said Mitchell also told him their religion, which he didn't specify, didn't allow the women to speak in public.
Elizabeth Smart Calls Kidnapper A Hypocrite
The detective said that he watched Mitchell's reactions to see if he was nervous as he asked to see the girl's face – he offered Mitchell the option of unveiling her himself.
Article continues below advertisement
"I upped the pressure, one notch at a time, and got the same matter-of-fact response that this was not going to happen," Richey testified.
He said Mitchell remained "calm, assertive and very much the same throughout the confrontation."
Elizabeth Smart Testifies About Kidnapping With New Shocking Details
The detective claimed he was aware of the trio's civil rights and felt that he did not have enough evidence to get the girl to bare her face.
Richey later told reporters: "Had I more information, anything at all that led me to believe it was Elizabeth, civil rights wouldn't matter. Her safety would be my only consideration. I would have taken off the veil."
He revealed that after Smart was rescued in March 2003 and he learned she was the girl wearing the veil "it was absolutely traumatizing."
SHOCKING PHOTOS: Inside of Jaycee Lee Dugard's Kidnapper's Home
Article continues below advertisement
"At first, I felt responsible. I racked my brain about what else I could have done, should have done," he said.
But he came to the conclusion that "with the information I had, there was nothing more I could do."
The detective now works as a bloodhound handler for the Unified Police Department.
The trial, before Judge Dale Kimball, will break for Veterans Day and Friday and resume on Monday.
RELATED STORIES: