Elizabeth Smart Calls Kidnapper A Hypocrite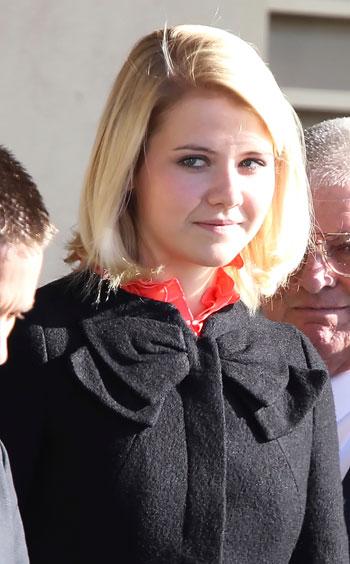 Article continues below advertisement
Now 23, Smart finally has revealed to the world what she really thinks of her captor: "I know he was not 'called by God' because God would never do something like this.
"God would never tell someone to kidnap someone at knifepoint from their bed, a young girl from her home in the middle of the night from the bed she shared with her sister, from her sister's side ... and continue to rape her and sexually abuse her."
Smart told the court that although Mitchell used religion to get what he wanted he would fail to show compassion towards other people. And despite what he preached the only thing that Mitchell truly worshipped was his love of alcohol and sex.
She said: "He was very hypocritical.
"He was rude and vulgar and self-serving. He was his No. 1 priority, followed by sex and drugs and alcohol. He used his religion to justify everything.
Article continues below advertisement
"He said that I would become accustomed and would learn to love it. He said he understood and recognized that I felt like a prostitute or a concubine or a second-class wife, but that wasn't the case at all."
During her evidence Smart revealed how she hatched a scheme that eventually fooled Mitchell and allowed her to win her release and be reunited with her own family.
When Mitchell started talking in March 2003 about moving on as food supplies ran low at the camp they'd set up about 30 miles from San Diego, California, Smart came up with a way to steer them back home to Utah.
She told him she had a revelation in a bid to try and secure her own freedom.
"I said I thought we should return to Salt Lake City," Smart recalled. "I said I didn't know for sure, but God told me we should pray on it.
"Everything I said was immediately disregarded, but I knew if I said God told me, he would listen to me a lot more."
When Mitchell agreed on the plan Smart seized the opportunity to feed his evil desires. She suggested to him that the mountains of Utah were filled with camps and girls where he could find young Mormon brides so that he could fulfill his revelations to have at least seven wives.
Article continues below advertisement
Smart set in motion the series of events which led to her rescue on March 12, 2003, in Sandy, Utah by cleverly suggesting they should hitchhike in regular clothes following the September 11 terrorist attacks.
Mitchell has not been in court during her testimony. While his lawyers do not dispute what happened, they claim their client is insane and therefore not criminally responsible for his actions.
The trial before Judge Kimball continues. Stay tuned to RadarOnline.com for the latest updates.