Christina Aguilera: Cher Giving Me Advice On My Personal Life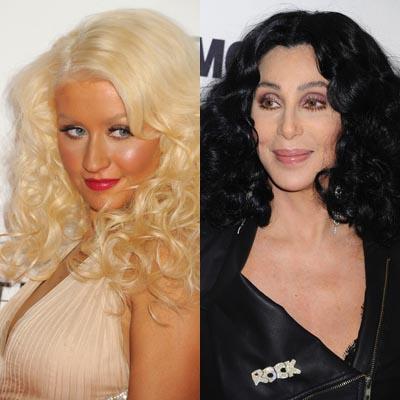 Christina Aguilera, who's currently going through a high-profile divorce, says she's been getting advice from a trusted mentor - her Burlesque co-star, Cher.
"She gave me so much advice, both personally and professionally," Aguilera said Sunday during a press junket to promote Burlesque at the Four Seasons Hotel in Beverly Hills, CA. "She didn't even have to open her mouth. She is just such an incredible presence and person. Been there and done everything before any of us came along. I admire and respect that truly."
Article continues below advertisement
Asked about her rapport with Aguilera, Cher said their "relationship was good on- and off-screen.
"I have been through many of the things she has gone through," Cher said of Aguilera. "You can tell someone advice, and it was a way of connecting on and off the set."
As RadarOnline.com previously reported, Aguilera filed for divorce from Jordan Bratman, the father of her 2-year-old son Max, on October 14.
Aguilera said she's coping during the difficult period by "doing the best thing for myself and my child.
PHOTO: We Told You So! Sam Ronson Caught Sneaking Out Of Christina Aguilera's House
"That is part of the process of what I am going through," the Genie In A Bottle singer said. "I'm a smart girl and there are reasons why I make the choices that I do. Ultimately, I am just looking out for my son's happiness. That is my most important goal in life. It's why I work, it's why I work hard and it's the example I want to set for him.
Article continues below advertisement
"And balancing that, for the moments when I can't be there, it's making sure that he's in good hands," said the singer, who's receiving the 2,423rd star on the Hollywood Walk of Fame Monday. "He's such a character, he never stops smiling or laughing. I know I am doing something right. That's my main goal."
Burlesque hits theaters November 24.
RELATED STORIES:
Christina Aguilera Had 'Open Marriage,' Says Woman Approached By The Singer At Gay