Quaids' Lawyer Claims Signatures Forged on Property Sale Documents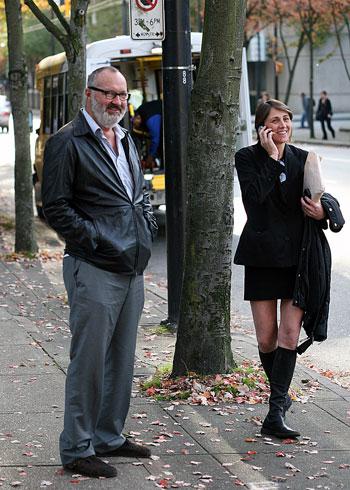 The Randy and Evi Quaid case took a bizarre twist today in Santa Barbara after their lawyer claimed the couple's signatures had been falsified over the Montecito home they are accused of squatting in.
The pair was a no-show at court Tuesday in connection with a squatting arrest in September at a guest house of a Montecito house once owned by the couple.
Bob Sanger, attorney for the Quaids, addressed the court saying he had evidence that the couple's signatures on the sale of the property to the Burman family in 1991 had been forged.
Article continues below advertisement
However, the new information did not stop Judge Donna Geck from issuing a new bench warrant for Evi Quaid who forfeited her $500,000.00 bail for not appearing in court Tuesday.
Judge Geck ordered Randy Quaid's bench warrant and bail to be held until his next scheduled court appearance on November 16 as the actor is due to appear in a Canadian immigration court on November 8.
Deputy District Attorney Anthony Davis said he had not seen any evidence of false signatures on the Montecito property as yet.
He said: "We fully expected the Quaids to be here today and extradition is still a possibility as we are talking with Canadian authorities.
"We are frustrated that they have not shown up for the third time now and we have issued new bail amounts for both of them for $500,000.00 each.
"Mrs. Quaid forfeited her bail today and Mr. Quaid could lose $1 million if he does not appear in court later this month."
Article continues below advertisement
The District Attorney would not comment on the couple's bizarre claims that their lives and that of other celebrities were constantly under threat.
Judge Geck dismissed their attorney's plea that Evi Quaid was "inseparable" from her husband because of these bizarre claims.
Their lawyer Bob Sanger would not comment on their case as he left court today
Related Stories:
BREAKING NEWS: Bench Warrant Issued For Evi Quaid; Randy Cleared -- For Now