Sister Wives Polygamy Case In Hands Of District Attorney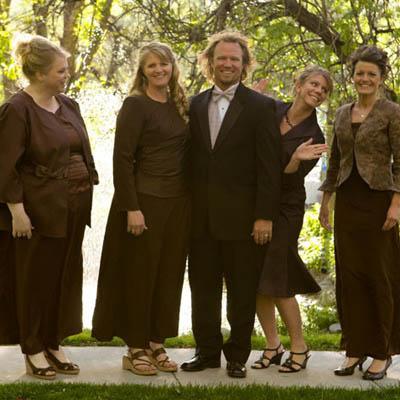 Sister Wives star Kody Brown faces an anxious wait to see if he will face prosecution over his gigantic family as Utah County Attorney's Office review the case, RadarOnline.com is reporting.
Utah County Attorney Jeff Buhman confirmed to RadarOnline.com that Lehi Police turned over the Brown case to them on Monday, and that they are currently deciding if they will press charges.
The 'Big Love' style case has grabbed the headlines in recent weeks after the TLC reality family's unusual arrangement came into the spotlight.
Article continues below advertisement
Brown claims he is only legally married to only one of his three wives; he also has a fiancée and 13 children to take care of.
Sister Wives has been a surprise hit for TLC, and Brown has publicly defended his 'plural style' union despite the current investigation into his family.
"We're not felons, we're family," he told plainSpeak, a newsmagazine published by Northwest College (Wyoming) students.
Polygamy has been outlawed in Utah since the 19th century and carries a potential five year jail sentence if convicted.
Brown has acknowledged in interviews that displaying his lifestyle on national TV was risky, but RadarOnline.com discovered that Kody was openly discussing it last year. He previously lived in Wyoming before moving to Utah.
And, according to the Powell Tribune, Kody points out the hypocrisy of society accepting people having multiple sexual partners, but looking down at his lifestyle.
"If you take off the need for secrecy in polygamy then you will open the door more and more," Brown said in last year's interview.
Article continues below advertisement
And he addressed the perception of some people that polygamous men simply want to have sex with multiple partners. "If I wanted sex with a lot of women there is a lot of barhopping I could do," he told the magazine. "It's not something I'm interested in. I'm interested in a family, raising my children.
"If it were all about sex there's just other easier venues, way easier."
VIDEO: TLC's New Show 'Sister Wives' Features One Man, 3 Wives, 13 Children
The author of the article told the Tribune that Kody isn't trying to force his view of marriage on others, but wants it decriminalized.
VIDEO: Jealousy Rocks Sister Wives
Kody's four partners are Meri, Janelle, Christine and Robin and they all live in Lehi, Utah.
EXCLUSIVE INTERVIEWS: New TLC Show Features Polygamist Family With Four Wives
Early episodes have focused on Kody courting Robin and telling his family that he will be making her wife Number 4. The Washington Post called the show "refreshingly frank and entertaining", while noting that: "The Browns know that their definition of marriage is difficult to describe to outsiders; yet the outside world cannot help but be curious."