Exclusive
EXCLUSIVE INTERVIEWS: New TLC Show Features Polygamist Family With Four Wives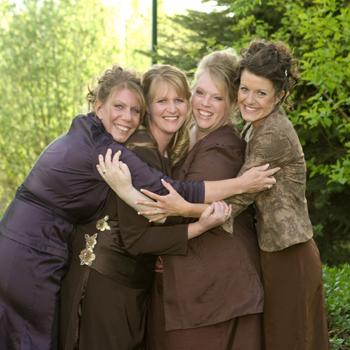 TLC, the network that brought you Jon & Kate Plus 8 and 19 Kids and Counting, is featuring another controversial family and will air the show Sister Wives this fall about a fundamentalist Mormon family with one husband and four "sister wives."
Kody Brown is married to Meri and has two other "sister wives," Janelle and Christine. Brown is bringing a fourth wife into the family, Robyn. They have 13 children collectively and live in Utah and the show gives a glimpse into a real life Big Love.
Article continues below advertisement
"That was a scripted show, we're real life," Robyn exclusively told RadarOnline.com about the comparison between the hit HBO series and their family.
Kody explained that his family is not breaking the law with its polygamist marriages. "It's one legal marriage and the rest are commitment marriages."
On a panel at the Television Critic's Association on Friday in Los Angeles the family faced a crowd of journalists questioning their lifestyle.
"Like every other American family this takes everything we've got," Kody said.
Robyn, who is becoming the fourth "sister wife" explained their living situation. "There are three wives in one home with separate apartments and I'm separate right now. We're hoping to be all in one home."
Kody told reporters the reason the family decided to do the show was because of the secrecy surrounding their lifestyle. "I felt like the secretiveness of the society has been a little bit dangerous for the society, as well as the public. This is part of our reason for essentially coming out. This is a story that needs to be told. I think that by simply telling this story and not getting into prejudices it actually helps the society to understand."
Article continues below advertisement
The family wouldn't reveal their specific religious affiliation, but said they are Fundamental Mormons. Kody explained that his father first became part of the society that accepted polygamy and he followed him into the sect two years later. "We actually are part of a larger religious community. We are not here representing them, we really are making this decision as a family only. Traditionally our fundamentalist culture has been very quiet of our identity."
The family admitted that they haven't kept their polygamist marriages a secret. "Surprisingly enough we have all told co-workers before how we live, our kids have been telling their friends. So it's not like this huge thing. We've all talked about it," third wife Christine said.
When asked by a reporter how the family could reconcile teaching polygamist marriages but not supporting gay marriage, Robyn responded. "My best friend is gay, we are open to that and I teach my children that we are open to that. We teach our children that we are open to other lifestyles. We teach our children what we believe but we give them the opportunity and the openness to choose for themselves. We tell them all we want for them is to be happy and to be productive and law abiding citizens."
While Kody has four wives the family isn't looking to add any "Brother Husbands" to the mix they exclusively told RadarOnline.com. "I'm worried about them digging on another guy, I'm worried about the competition," he admitted.
Sister Wives premiers on TLC on September 26 at 10pm.