Stars Of Sister Wives Investigated For Felony Bigamy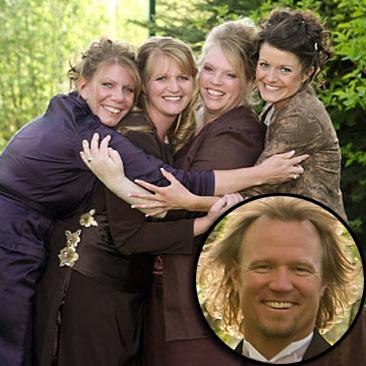 The stars of TLC's new reality TV show Sister Wives are under police investigation in Utah for a possible charge of felony bigamy, RadarOnline.com has learned.
Police in Lehi, Utah, said they began looking into salesman Kody Brown and his four wives even before the show debuted Sunday.
"At the conclusion of the investigation, the evidence will be forwarded to the Utah County Attorney's Office for review and possible prosecution," says a police spokesman.
Article continues below advertisement
Police acknowledged that widespread publicity surrounding the show sparked the investigation.
The show premiered on TLC Monday with an hour-long special, the first installment of a seven-part "docu-series" about Brown and his three wives - Meri, Janelle and Christine - and their 13 children. The series began with Brown announcing plans to take on another wife, Robyn, and her three children.
Producers of Sister Wives apparently feared the Browns could come under legal scrutiny, so they contacted the Utah Attorney General's Office months before airing the program.
"They called us and said, 'Hey, are you going to shut us down?'" said Scott Troxel, spokesman for the attorney general.
Troxel said the Utah Attorney General's Office doesn't have the resources to go after polygamists unless it suspects crimes such as child abuse or child trafficking.
"Right now, it's not in our hands, but we're not closing the door," he said.
The Brown family issued a statement Tuesday, saying, "We are disappointed in the announcement of an investigation, but when we decided to do this show, we knew there would be risks. But for the sake of our family, and most importantly, our kids, we felt it was a risk worth taking."
Bigamy is a third-degree felony in Utah but is rarely investigated.
In 2001, one of Utah's most high-profile polygamists, Tom Green, was convicted in Provo's 4th District Court of bigamy and failure to pay child support. He also was later found guilty of child rape.
VIDEO: TLC's New Show 'Sister Wives' Features One Man, 3 Wives, 13 Children
Prior to his convictions, Green and his family talked openly about their lifestyle on international and national TV programs, including The Jerry Springer Show, Dateline and Judge Judy. Prosecutors said they didn't start investigating Green until seeing him on TV.