PHOTOS: David Arquette - The 'Birthday Bike' That Marked The Beginning Of The End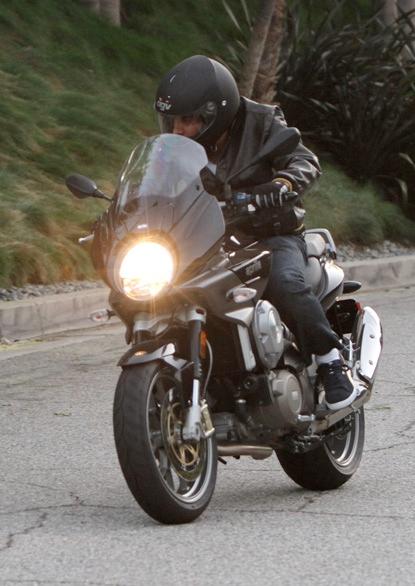 David Arquette, dressed in black from head-to-toe, let off some steam Wednesday, taking a ride on Mullholland Highway on the Aprilla motorcycle Courteney Cox gave him for his birthday, and RadarOnline.com has all the pictures for you.
PHOTO: David Arquette - The 'Birthday Bike'
The bike, according to Arquette, was metaphoric in the sense that it came with a subliminal ultimatum Cox gave him along with it: Grow up, or ride off into the sunset.
Article continues below advertisement
In a shockingly candid interview with Howard Stern on his Sirius radio program Tuesday, Arquette said, "After our 11th anniversary she gave me a motorcycle and said, 'I don't wanna be your mother anymore.' I was like, 'Alright, I get it.'"
FIRST PHOTOS: Courteney Cox Surfaces Sans Wedding Ring
Arquette, whose announced separation from the Cougar Town star shocked the entertainment world Monday, took to Twitter Wednesday, and seemed to regret letting it all hang out for the King of All Media a day earlier.
"Thank you all for your Love and support at this time. I'm trying figuring out how to be the best person I can be... but it's been a process of trial and error," he Tweeted. "I went on Howard Stern yesterday to provide clarity and honesty about what I'm experiencing but while doing that I shared too much.
"It's alright for me to be honest about my own feelings but in retrospect some of the information I provided involved others and for that I am sorry and humbled," he wrote. "Life is a process of spiritual evolution... I'm sure Courteney and myself will emerge from this painful time better people for what we've learned."