Oksana Says 'My Life Is A Train Wreck'; Pleads With Mel 'To Be A Man'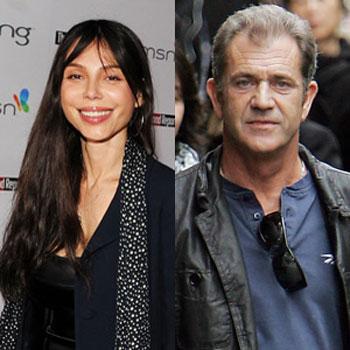 The ongoing battle between Mel Gibson and ex Oksana Grigorieva is far from over, and the Russian model has gone on an aggressive media tour to try and repair her tarnished image.
"My life is a train wreck," 40-year-old Oksana said in an interview with People magazine. "It's devastating."
Mel and Oksana currently share custody of their one-year-old daughter Lucia, who lives with her mother but sees dad Mel nearly every other day and spends the night with him once a week.
Article continues below advertisement
Oksana reminisced during the interview about how romantic Mel was at the beginning of their relationship. "He wrote letters professing that he is so in love with me," she said.
"In 2008 he gave me a Claddagh ring – a type of Irish wedding ring. He proposed his commitment for the rest of his life."
Oksana also detailed the horrific attack she alleges happened on January 6, an incident that was first reported exclusively by RadarOnline.com when the audio tape of Mel's hate-filled diatribe was released.
"Mel ran in and started screaming all kinds of nasty words. Then he just hit me twice with the fist. Boom, boom, to my head and my mouth," Oksana said.
"I fell on top of the bed. I'm just covering the baby and not protecting myself. He proceeds to choke me with both his hands."
EXCLUSIVE: Oksana Has Secret Evidence Against Mel Gibson On DVD
She explained why she didn't immediately leave the Academy Award winning actor or file a police report saying, "The worst thing for Mel is public humiliation. He threatened to kill me if I go to the police.
Article continues below advertisement
"You can't just cut off love when you're a victim of domestic violence. He was begging for another chance the following day. On his knees. He apologized for hitting me. He said he will never, ever touch me again."
EXCLUSIVE: Mel Gibson Ordered To Pay Oksana's Former Lawyer More Money
She also denied the accusation that she was holding off on the $15 million settlement Mel offered her to keep the domestic violence a secret.
"No. The $15 million was a proposal that I walked away from because he was wanting 50 percent custody of an infant when he's unstable," she said. "I feared I would never be able to prove that the tapes are accurate and not doctored."
Oksana said that she was not angry at Mel but that he "just needs to be a man."
RadarOnline.com exclusively reported that Mel has been ordered to pay Oksana's legal bills, totaling $250,000 to her former attorney Manley Freid. The court recently boosted her monthly child support to $20,000 and RadarOnline.com exclusively revealed that Oksana wants to move out of the Sherman Oaks home that is owned by Mel and wants him to give her $15,000 monthly for rent.
Article continues below advertisement