Octo-Mom's Doctor Not Board Certified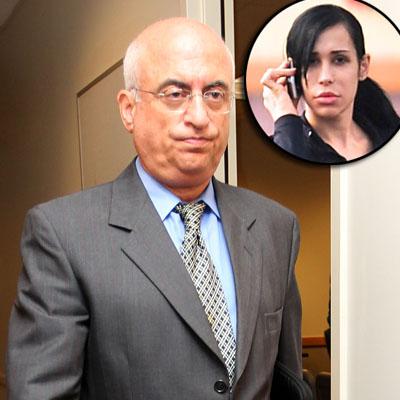 The doctor who performed the in-vitro treatments on Octo-Mom Nadya Suleman testified on Monday that he was not board certified and was kicked out of the American Society for Reproductive Medicine after she gave birth to the octuplets on January 26, 2009.
Dr. Michael Kamrava's tearful testimony revealed that he failed his oral exam and was never board certified in fertility medicine.
He detailed the in-vitro treatments Octo-Mom Nadya received, and he confirmed that he implanted her with almost 60 embryos over the nine years he treated her.
Article continues below advertisement
The judge stopped him from answering how much Nadya paid for the in-vitro treatments that resulted in her 14 children. An expert witness for the state previously testified that the treatments could cost as much as $15,000.
The Medical Board of California is accusing Dr. Kamrava of "gross negligence" for performing the multiple in-vitro treatments. The Board is seeking to revoke or suspend his license.
Dr. Kamrava apologized on the stand for implanting Nadya with so many embryos, wiping away tears as he spoke.
"I'm sorry for what happened," he said. "When I look back at it, I wish I had never done it and it will never happen again."
He testified that he did not speak with Nadya after he implanted the 12 embryos that resulted in the birth of the octuplets.
As RadarOnline.com exclusively reported, Octo-Mom Nadya was caught in a lie after his testimony. Dr. Kamrava said that he used fresh embryos for each in-vitro treatment and that there are still 29 remaining frozen embryos. Nadya has insisted repeatedly to RadarOnline.com that all of her frozen embryos were used during her last treatment.