Octo-Mom's Doc Faces Hearing Monday - Could Lose License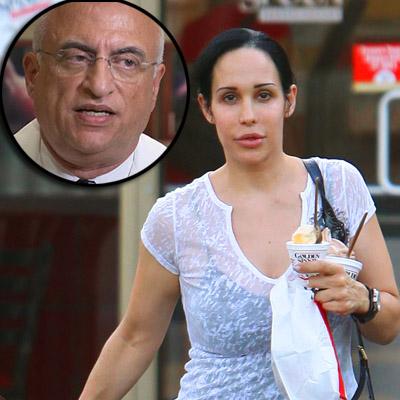 The Beverly Hills fertility specialist who helped Nadya "Octo-Mom" Suleman conceive octuplets and six other children through in vitro fertilization faces a medical fitness hearing Monday and could have his medical license suspended or revoked, RadarOnline.com has learned.
Dr. Michael Kamrava is accused of several instances of gross negligence, including implanting too many embryos in Suleman.
In addition to questioning his treatment methods, the complaint also says Kamrava should have referred Suleman to a mental health professional after she repeatedly returned for fertility treatments, even after giving birth to six children over a short period of time.
Article continues below advertisement
The complaint also accuses Kamrava of implanting the single Suleman with a number of embryos "far in excess of the American Society of Reproductive Medicine recommendation and beyond the reasonable judgment of any treating physician."
The society expelled Kamrava this past September, citing a pattern of behavior harmful to the medical field. However, his medical license was not affected, allowing him to continue treating patients.
The society recommends no more than two embryos be implanted in women under 35 years old, and no more than five for women over 40, for whom it is harder to get pregnant.
Doctors say giving birth to extreme multiples comes with increased risks for both the mother and the babies. Risks for the children include bleeding in the brain, intestinal problems, developmental delays and lifelong learning disabilities.
Article continues below advertisement
Suleman's babies - six two and two girls - were born 9 weeks premature in January, 2009 have since become the world's longest-surviving set of octuplets. So far, there's been no indication if any of the children are facing learning disabilities.
EXCLUSIVE INTERVIEW: Octo-Mom's Mom Says My Daughter Is Insane
In addition to the Suleman case, the complaint also accuses Kamrava of improperly implanting a 48-year old woman with seven embryos.