Exclusive
EXCLUSIVE: Website Selling Alleged Tiger Woods Sex Tape Goes Live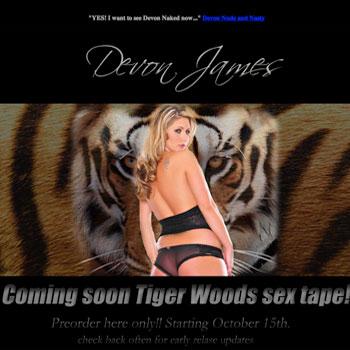 It's the website promising to show Tiger Woods playing in the rough – and it was all caught on video.
RadarOnline.com has exclusively learned www.tigertapexxx.com has gone live and will begin releasing alleged clips from a 62-minute sex tape within days.
The website boasts, "Coming soon Tiger Woods sex tape!"
Devon James, the hooker who claims she was Tiger's 15th mistress and had an affair with the philandering golf superstar, told RadarOnline.com she sold the tape to a DVD production company for $350,000 plus royalties.
Article continues below advertisement
It includes 37 minutes of sex between the pair, James said.
And in a taste of what is supposedly to come, James writes on another of her XXX sites: "Come watch Devon f*ck and s*ck and see Tiger Wood's former girl Play all the holes and why Tiger WOULD too!
She teases, "Don't forget to check back and see if we have some captured Tiger images!"
Many – including Devon's own mom – have cast doubt on whether the tape even exists, although it has previously been alleged that naked photos and a phone sex tape exist from Tiger's cheating spree.