Exclusive
EXCLUSIVE: Porn Star Shopping Alleged Tiger Woods Sex Tape To XXX Company Vivid -- Top Level Talks Today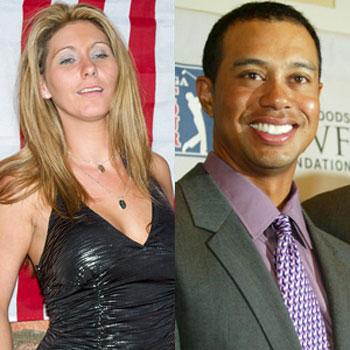 Tiger Woods' porn star mistress Devon James is meeting porn star producer Vivid in the hope of selling an 'explosive' sex tape of the golfer, RadarOnline.com has exclusively learned.
"The tape is 62 minutes long and 37 minutes of it is us having sex," James told RadarOnline.com, before boarding a flight from Tampa Bay to Los Angeles, Wednesday.
"We are flying to Los Angeles today to meet with Vivid about selling the tape."
Article continues below advertisement
It's perhaps the most explosive -- yet hard-to-believe claim -- being made by James, who has a history of telling lies, according to her mother Sandra Brinling.
Brinling has said: "My daughter is nothing but a pathological liar... there was no relationship with Tiger Woods."
But James -- real name Melinda Janette -- has claimed otherwise and even asked a Florida judge to rule Tiger was the father of her nine-year-old son.
That motion was denied.
James claims she was 19 and working on a Christian charity project in Hawaii when she first hooked up with Tiger.
She later reconnected with the philandering golfer when she was working as a hooker and allegedly had a "dirty" threesome, which earned her and another prostitute $2,000 each.
James told RadarOnline.com she filmed the sex tape with Tiger in 2008.
"This sex tape is worth at least $350,000," James said, exclusively.
Article continues below advertisement
"If Vivid won't pay enough, we're going to self-release the tape... It's going to be the bomb."
When asked about the impending meeting, Vivid's head honcho Steve Hirsch told RadarOnline.com: "We can't comment at this time."
RadarOnline.com has not seen the tape and cannot confirm if it exists, at this time.
In the past, Tiger's lawyers secured a court order barring British publications from printing naked pictures or videos of the golfer.